Coca-Cola signs partnership memo with Baku State University [PHOTO]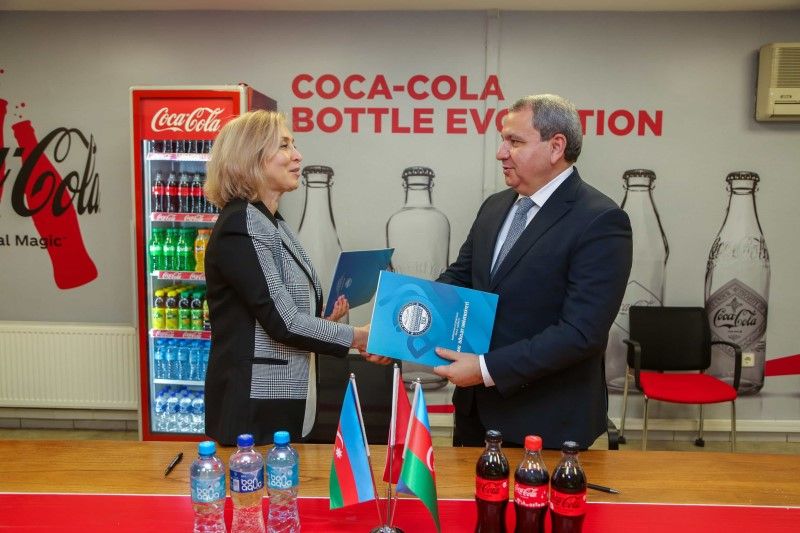 The partnership memorandum, which envisages expanding the scale of participation of university students in local and international events, was signed between Rana Mammadova, CEO of Coca-Cola Azerbaijan, and Elchin Babayev, rector of the Baku State University.
In conformity with the memorandum, the parties will conduct scientific researches in the food industry sector and work together for the development of new technologies. The memorandum, which includes knowledge exchange and pilot work opportunities, also provides for the participation of Coca-Cola Azerbaijan specialists as guest speakers at university events. Within the framework of cooperation, university volunteers will also participate in the company's social responsibility projects.
CEO of Coca-Cola Azerbaijan Rena Mammadova emphasized that in accordance with the "Diversity and Inclusion" clause of CCI's (Coca Cola İchecek) commitments until 2030, the company has started cooperation with various programs, including universities.
"CCI has been implementing youth-related projects in the countries where it operates for a long time. Now in Azerbaijan, we are focusing on projects that increase the experience and work opportunities of young women, and we are glad to see that we are not alone in this effect. I believe that thanks to our cooperation with the Baku State University, we will be able to positively influence the lives of female students and create an environment where they can develop."
The list of universities with which the company cooperates includes the Baku Engineering University, the Azerbaijani State Oil and Industry University, as well as the Azerbaijani Technical University.
Coca-Cola, one of the most influential companies in the world, has been operating in Azerbaijan since 1994. The producer of Coca-Cola products in Azerbaijan is Azerbaijan Coca-Cola Bottlers LTD LLC, founded by the Turkish Coca-Cola İchecek company. Coca-Cola İcecek, one of the first and largest investors in the country's non-oil sector, established a production plant in the Sulutapa settlement in 1996.
---
Follow us on Twitter @AzerNewsAz