Rare citrus fruit cultivated in Azerbaijan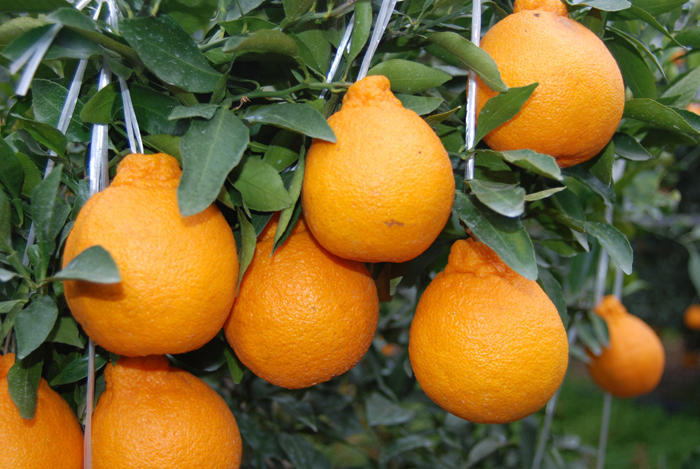 By Leman Mammadova
The availability of favorable natural climatic conditions and traditions in the southern region of Azerbaijan for the cultivation of citrus fruits, which has a special place in agriculture, has a high economic efficiency and export potential.
Hallabong, a rare citrus fruit grown only in four countries, has been planted on more than 100 hectares (ha) of land in Azerbaijan's Lankaran region, the Lankaran City Executive Power told Trend.
The harvest time of this fruit differs from other citrus fruits.
Although other citrus fruits of the southern region are harvested in October-November, the harvesting of hallabong begins after December 25 and lasts for a month. Around 10-12 tons of the product was harvested from 15 ha of lands in 2016. An extra 18.7 ha of hallabong was planted in 2017, with 15.3 ha in other areas. This year there is an abundance of land and productivity.
It is planned to increase the area of hallabong plantations in the future. The rare citrus plant known as hallabong or dekopon is grown in five countries only, including Azerbaijan.
Located in the southern lands of Azerbaijan, Lankaran region is characterized by humid subtropical climate and differs from other economic regions of the country due to its natural environment that allows getting productivity in citrus growing here.
In 2017, the total area of citrus gardens in Azerbaijan increased by 1.9 times to 3191.2 hectares compared to 2010, while production increased by 2.2 times to 42,800 tons. In 2017, Azerbaijan imported 30,600 tons of citrus fruits cost $ 18.9 million, including 12.6 thousand tons of oranges, 11,900 tons of lemon, 4,600 tons of mandarins, 1,500 tons of grapefruit and other citrus fruits.
The original scientific name, known as the Hallabong, is citrus retroclora. This is the hybrid of mandarine and orange. The fruit is originally from Japan. After Japan, its cultivation reached South Korea, eventually making its way to the U.S. and Brazil. The fruit was brought to Azerbaijan and planted in Lankaran in 2015.
Hallabong's weight ranges from 350 to 400 grams, with the fruit having a pear-like shape. It is rich in vitamins essential to the human body. The fruit has many health benefits, including helping preventing tooth loss and diabetes. It is also helpful in protecting the organism from various harmful substances and illnesses.
Hallabong is also an industrial fruit with commercially-available features. Its productivity is about 35-45 tons per hectare that is 2-3 times more than the local citrus fruits. Although the effort is great in growing, profit from this fruit is also high. This fruit is in demand in confectionery, cosmetics, perfumery, juice and wine making.
Last year, Azerbaijani President Ilham Aliyev signed an order approving the state program for development of citrus fruit growing for 2018-2025 in order to meet the demand for citrus fruits in the country, expand exports of these products and increase the employment level and financial wellbeing of the rural population.
---
Follow us on Twitter @AzerNewsAz