Turkish minister to visit Azerbaijan in mid-July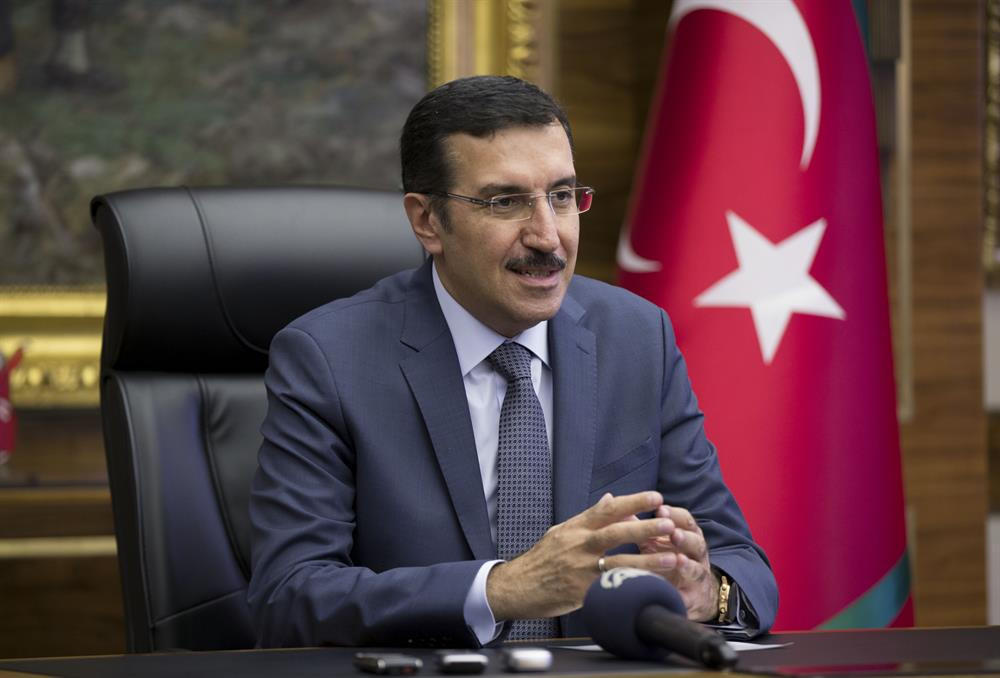 By Sara Israfilbayova
Turkish Minister of Customs and Trade Bulent Tufenkci will visit Azerbaijan on July 18-19.
The minister will take part in the trilateral meeting of the heads of the customs departments of Azerbaijan, Turkey and Georgia.
Tufenkci will also hold a number of bilateral meetings with high-ranking officials of Azerbaijan.
Turkey, Georgia and Azerbaijan plan to increase the volume of mutual trade up to $20 billion.
The three countries plan to boost the trade ties via research and innovative potential of Turkey, natural and geographical opportunities of Georgia and strong energy infrastructure of Azerbaijan and eye several joint initiatives in this regard.
Azerbaijan's trade turnover with Turkey amounted to $2.3 billion in 2016, with Georgia – to almost $395 million, according to Azerbaijan's State Customs Committee. Turkey became Azerbaijan's main trade partner and Georgia ranked the 12th in 2016.
The Turkish minister has recently expressed a will to simplify and speed up customs procedures with Azerbaijan and create a "green corridor" [implies simpler customs clearance, may provide smooth transit of goods. One of the advantages of the regime is that goods transported by entrepreneurs do not have to undergo customs inspection and examination when crossing the border], with a view to ensure the access of Turkish goods to new markets in order to strengthen the country's competitiveness.
The two countries has recently approved a Memorandum of Understanding (MoU) signed between the Turkish Ministry of Customs and Trade and the State Customs Committee of Azerbaijan "On the establishment of the Joint Committee on Customs Issues".
The document was signed in Ankara in 2015, with participation of Azerbaijani President Ilham Aliyev and President of Turkey Recep Tayyip Erdogan.
The Joint Committee will coordinate the cooperation in the customs sphere between the two countries, determine the directions for the development of this sphere, facilitate the simplification of customs procedures and promote the introduction of new technologies to enhance the effectiveness of customs control.
Moreover, Azerbaijan and Georgia with the support of the European Union (EU) are working to improve the customs checkpoint Red Bridge on the Georgian-Azerbaijani border.
The project started in March 2017 and will be completed by the end of 2017. The project costs Azerbaijan $1.3 million. The total cost of the project is €3 million.
Earlier, head of the State Customs Committee of Azerbaijan Aydin Aliyev noted that a necessary laboratory to carry out phytosanitary, veterinary and other kinds of control will be established on the territory of Georgia, with the support of the EU, adding that the Azerbaijani side, with the support of the EU, but taking into account financial capabilities, will build a large logistics center
The total length of the Georgian-Azerbaijani border is 480 kilometers, of Turkish-Azerbaijani border-15 kilometers (all on the border with Nakhchivan).
---
Follow us on Twitter @AzerNewsAz