13 September 2016 14:30 (UTC+04:00)
24 700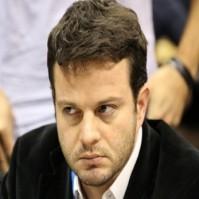 The coach of the Azerbaijan team Etienne Bacrot has commented on the performance of the team in the Chess Olympiad in Baku.
We all hoped that the team would play smoothly and confidently, but in such competitions it is difficult to avoid setbacks. You never know the outcome not only of a game but also of the whole match. Of course, our expectations were quite high and we planned that the team would score more points than it has. Sometimes the result was affected by some small details. But the tournament is going on, we will fight on," Bacrot said.
He also commented on the match against Russia in the ninth round of the Olympiad. Playing against a team that is one of the favorites of the competition is always difficult. And when Vladimir Kramnik and Alexander Grischuk play white, the task gets even more difficult. In that match, Shakhriyar Mamedyarov had an edge against Sergei Karjakin, but the match ended in a draw. Rauf Mamedov also had a promising position in the game against Evgeny Tomaszevsky, but everything depended on a few the exact moves. One single mistake could wipe out the winning plan. As a result, this game also ended in a draw, Bacrot added.
The French coach pointed to a good level of the competition."There is a good playing hall. Everything meets and even exceeds the highest requirements. I don't go to the playing hall very often. My work begins in the evening and continues through the night, when I work on games for Azerbaijani chess players " he concluded.
--
Category News