European MPs to raise issue of Azerbaijani hostages in occupied Karabakh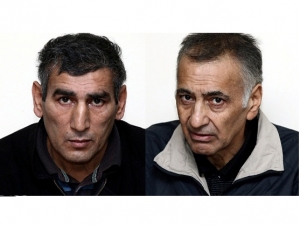 By Rashid Shirinov
Baku keeps in focus the issue of releasing Dilgam Asgarov and Shahbaz Guliyev, taken hostage by Armenian militaries.
Three years have passed since three Azerbaijani civilians, Dilgam Askerov from the occupied Kelbajar region, Shahbaz Guliyev from the occupied Terter region and Hasan Hasanov from the occupied Jebrail region of Azerbaijan, were captured by the Armed Forces of Armenia.
They were detained by the Armenian armed forces in July 2014 while visiting their native places and graves of loved ones in the occupied Azerbaijani Kalbajar region. Hasan Hasanov was murdered under unknown circumstances.
The issue of the releasing Dilgam Asgarov and Shahbaz Guliyev was recently raised at OSCE summit in Warsaw by Dilgam Asgarov's son Kurdoglu.
"We had father's Russian passport. We addressed Russian MPs there, asking why no steps are taken on the case of Dilgam Asgarov, who is a citizen of Russia," he said addressing a press conference in Baku on September 25.
"At the summit, we provided information about the conditions of detention of Dilgam Asgarov and Shahbaz Guliyev, their illegal detention by Armenians, and we could attract the attention of the summit participants to this issue," Dilgam Asgarov's son added.
The European MPs said they would raise this issue in their countries as well. "We managed to attract the attention of European MPs. We separately met with them and provided them with detailed information. The European MPs promised to keep the issue in the spotlight," Kurdoglu Asgarov noted.
Dilgam Asgarov and Shahbaz Guliyev were judged illegally by the unrecognized courts of a separatist regime in Nagorno-Karabakh. Following an expedited "judicial process" in December 2015, Asgarov was sentenced to life imprisonment and Guliyev to 22 years. Attempts of Azerbaijan to provide justice and to free the hostages are still unsuccessful.
Azerbaijan's State Committee on Affairs of Refugees and IDPs, the State Commission on Prisoners of War, Hostages and Missing Persons and other agencies have repeatedly urged international organizations, including the International Committee of the Red Cross, to assist in release of Guliyev and Asgarov, but the problem remains topical yet.
---
Rashid Shirinov is AzerNews' staff journalist, follow him on Twitter: @RashidShirinov
Follow us on Twitter @AzerNewsAz