Chief Adviser of Erdogan: Armenian historians themselves admit "genocide" lie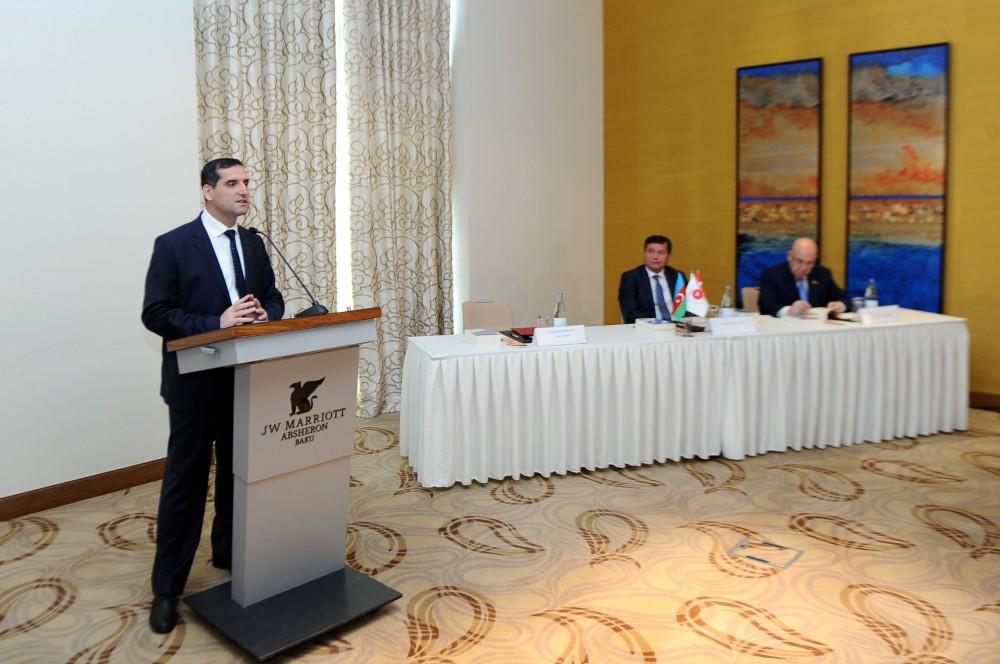 By Rashid Shirinov
Armenian historians themselves admit the lie about the so-called "Armenian genocide," Chief Advisor of Turkish President Recep Tayyip Erdogan, Professor Seyit Sertcelik said in Baku on May 30.
He made the remarks while addressing presentation of the two-volume book titled "The Armenian issue in the view of Russian and Armenian sources and the process of its emergence in 1678-1914."
Sertcelik noted that the Armenian allegations of genocide are based not on historic facts, but on 'memories' of people.
The previous and incumbent Armenian authorities alongside the diaspora, claim that the predecessor of modern Turkey, the Ottoman Empire, carried out a "genocide" against Armenians in 1915 in Anatolia. They annually raise their voice, calling for the recognition of the 1915 events as a "genocide", inviting the international community to unanimously blame Turkey for the actions of its predecessor.
Many historians, scholars and experts had announced that the hundred-year-old lie, the so-called "Armenian genocide" contradicts the historical facts. Moreover, there have been many accounts which actually disproof Armenia' stance.
Yerevan has so far failed to command any factual proofs to make a legal and historical ground for its claims, evading from launching an investigation instead of delving into history. Ever since Armenia came out shouting 'genocide', no real investigation into such allegations has ever been carried out although Turkey proposed Armenia to open its military archives and investigate the issue.
"On the contrary, Armenians have always been the aggressors in the Turkic geography. The first Armenian aggression occurred in the 17th century," Sertcelik noted.
The professor added that in 1828, the Armenians for the first time perpetrated a massacre against the unarmed people in Osmanli.
Turkish Ambassador to Baku Erkan Ozoral, Chairman of the Azerbaijan-Turkey Interparliamentary friendship group Ahliman Amiraslanov, scholar Nizami Jafarov and historian Musa Gasimli also spoke at the presentation, noting the importance of conveying to the public the truth about the Armenian problem, based on the facts.
"Armenia's actions against Azerbaijan and Turkey are based on aggression," said Erkan Ozoral addressing the presentation. "The Armenians know that Turkey and Azerbaijan are one nation with two states. Therefore, we should always support each other."
The Armenians had also committed genocide of the Azerbaijanis in the beginning of the 20th century. This genocide was carried out with extreme violence in Baku, Shamakhi and Guba counties, as well as in Karabakh, Zangezur, Nakhchivan, Lankaran and other regions of Azerbaijan. Armenians killed many civilians in these areas, burned and razed to the ground villages and destroyed Azerbaijani monuments of national culture.
At the end of the 20th century, Armenia broke out a lengthy Nagorno-Karabakh war against Azerbaijan by laying territorial claims on the country. As a result, Armenian armed forces occupied 20 percent of Azerbaijan's territory, killing 20,000 Azerbaijanis and expelling over 1 million Azerbaijanis from their homes.
---
Rashid Shirinov is AzerNews' staff journalist, follow him on Twitter: @RashidShirinov
Follow us on Twitter @AzerNewsAz