High time to pick up an olive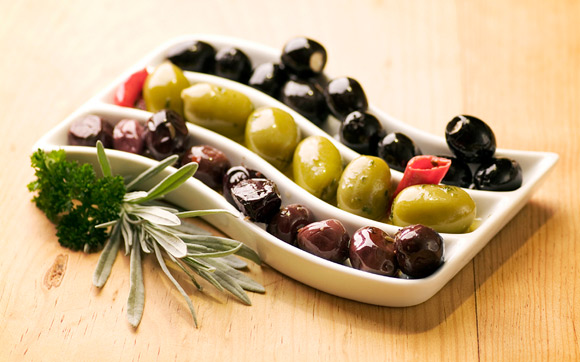 By Nigar Orujova
Not many newcomers know that the olive – a symbol of peace, prosperity, fertility and victory – is widely grown in Azerbaijan. In fact, olive orchards are one of the first things guests of the country can see when traveling from the Heydar Aliyev International Airport to Baku.
Mid-autumn is a time when the country reaps the fruits of its olive groves.
Evergreen olive tree can grow on rocky land and bring a rich harvest. Olives were found in excavations in Absheron, Barda, Aghdam, Aghjabadi, Fizuli and other regions in Azerbaijan, signaling that this fruit has a history in the region.
Old olive trees grow in the villages of the capital city, as well as in the Governor's garden in the center of Baku and in Ganja. In the 1960s, olive farms on the Absheron peninsula produced some 220-250 tons of olives annually. At present, the industry is on the rise in the young country. Last year, 66.5 tons of olives were harvested in the Absheron region.
Aside from the Absheron peninsula, olive orchards are sprouting up in the Sumgayit, Guba, Salyan, Goychay, Beylagan and Yevlakh regions. Olive trees grow here not only in gardens, but also in the courtyards and along the roads in the city.
Olives are famous for being a very healthy product that not only provides energy, but also contains significant amounts of plant-derived antioxidants, minerals, phytosterols, and vitamins.
In Azerbaijan, olives are used for canned food products, while ripe olives are salted and processed to produce high quality olive oil.
Olive is widely used in the country for its therapeutic effects. Water from boiled olive leaves reduces temperature and lowers blood pressure. Olive oil is widely used in home remedies for gallstones, kidney and hepatic liver, muscle aches and dry cough.
Doctors recommend eating several olives a day and to use olive oil in salads. Rich in nutrition, olives are also used for cosmetic purposes. The antioxidants and vitamin E contained in the fruit can prevent the skin from premature aging.
After going through all of the benefits, it's better to not forget to buy a can of delicious olives or a bottle of high-quality olive oil during your stay in Azerbaijan.
__
Nigar Orujova is AzerNews's staff journalist, follow her on Twitter: @o_nigar
Follow us on Twitter @AzerNewsAz