Pomegranate, red-flaming fruit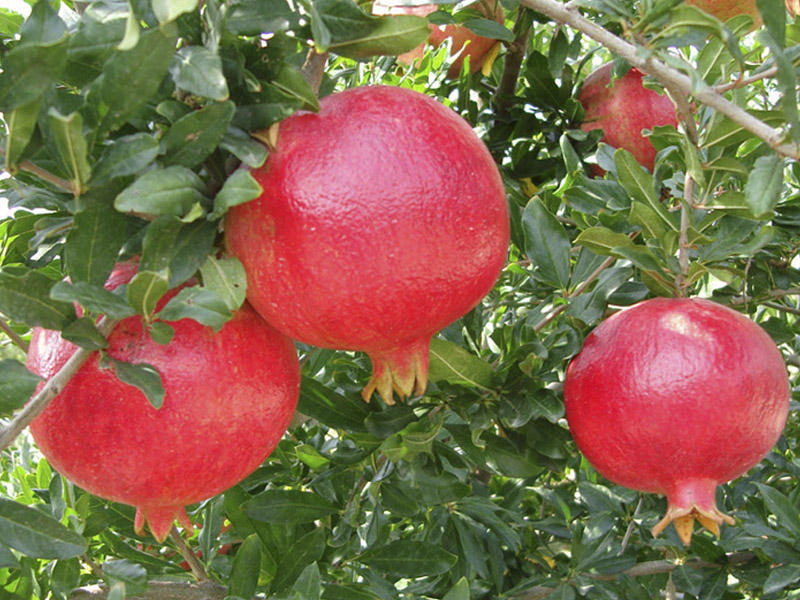 By Amina Nazarli
Guess what is the fruit that is considered the most famous, delicious, and useful in Azerbaijan.
Pomegranate, the juicy red fruit became the national symbol of the country. This round red fruit with a crown on his head is used by various companies in their promotions and is often found in cultural projects.
It became the symbol of the first European Games of 2015, held in Azerbaijan. Annually since 2006 the country's central part – Goychay hosts a Festival dedicated to this yummy and healthy plant.
In October summer cottages of Absheron residents acquire dark red tones thanks to this paradise plant. Azerbaijan, is considered the only country where all grades of pomegranate grow.
The king of all fruits, as it is called in Azerbaijan, pomegranate is constantly associated with fertility and strong health.
Thanks to this fruit national cuisine's fatty and flour dishes are available to almost everyone. It is difficult to imagine delicious kutabs (national dish) without it. An acidic fruit taste with a lot of small white bones takes a truly royal position in the country compared to other plants.
The Azerbaijani climate stands out for its climatic uniqueness; nine of the Earth's eleven climatic zones exist in Azerbaijan. As pomegranates are typically grown in semi-arid mild-temperate to subtropical climate and naturally adapt to regions with mild winters and hot summers, they are a widely cultivated and consumed fruit in the country.
The area of pomegranate gardens in the country has been growing rapidly since 2000.
The area with pomegranate trees in Azerbaijan was 21,700 hectares in 2015, according to State Statistics Committee. For comparison, in 2010 this area was 19,000 hectares.
The pomegranate is one of the most publicized fruits of Azerbaijan. Both the juice and the products derived from it are sold for export and are famous in many foreign markets.
The best quality pomegranate grows in the Goychay region. Goychay's pomegranates have gained international recognition as the true Azerbaijani pomegranate. The secret of the taste and quality of the Goychay pomegranates lies in the region's unique microclimate and fertile soil.
In anticipation of winter many Azerbaijanis have a tradition to gather in this fantastic city to celebrate the Pomegranate Festival, which is traditionally held for over the past 11 years.
It is generally accepted that Goychay grenade has no equal in quality. The village of Bigir is known even outside of Goychay because of this bush. But, no less beautiful pomegranate grows in Sabirabad, Agsu and other regions of the country.
The most popular Azerbaijani sorts of pomegranates are Guloysha, Bala Mursal, Nazik gabig, Shah nar, Girmizi gabig, Shelli cross breeding, Girmizi valas Shahnaz, and Agshirin.
Pomegranates ripened from the end of October to early November in Azerbaijan, however has a long shelf life, as it can be stored for a period of seven months.
Health benefits
We can speak at length about the benefits of pomegranate. This is a truly unique and valuable fruit as contains 15 amino acids, five of which are irreplaceable.
This amazing fruit consists of three times as many antioxidants as both wine or green tea.
It includes many vitamins, minerals and trace elements including potassium (K), calcium (Ca), phosphorus (P), magnesium (Mg), sodium (Na), iron (Fe), and vitamins C, P, B6, B12, B5, and E. Every Azerbaijani citizen is aware of the excellent digestive properties of this product.
Pomegranates are the number-one recommended fruit for all blood-related illnesses, including iron deficiency or anemia. One cup of pomegranate juice will increase your blood's haemoglobin level and resolve iron deficiency. Moreover, pomegranate juice benefits can lower high blood pressure, improve cholesterol, and reduce your risk for heart disease.
The health benefits of pomegranates are innumerable and what makes them special is that apart from being healthy, pomegranates are delicious too.
--
Amina Nazarli is AzerNews' staff journalist, follow her on Twitter: @amina_nazarli
Follow us on Twitter @AzerNewsAz