National Gymnastics Arena hosts AGF Trophy Int'l Tournament in Rhythmic Gymnastics [PHOTOS]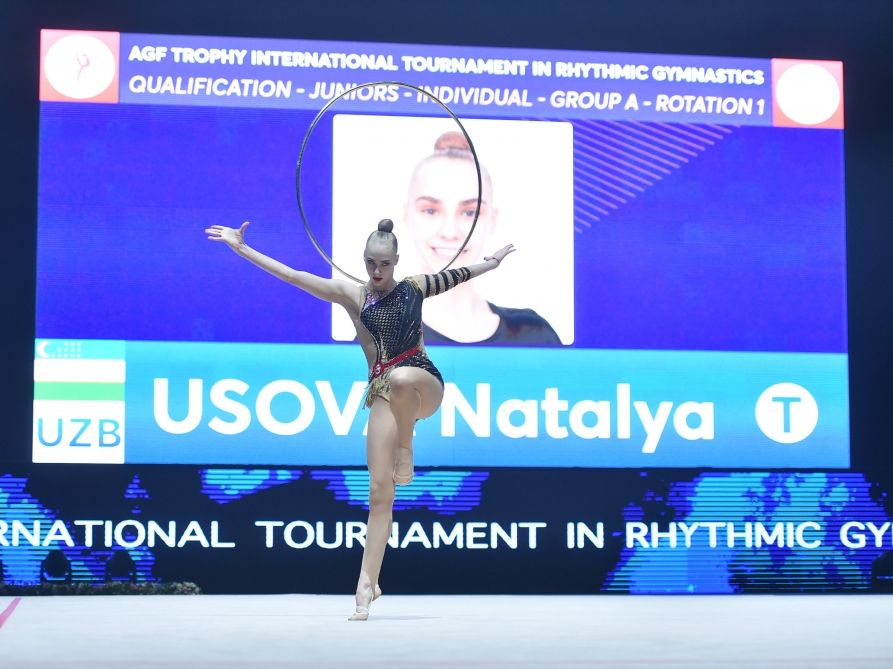 The first day of the 3rd AGF Trophy International Tournament in Rhythmic Gymnastics has started at National Gymnastics Arena in Baku.
Around 119 juniors and seniors gymnasts from 14 countries are taking part in the tournament, Azernews reports.
The opening ceremony featured a parade of flags of the countries participating in the gymnastics competition.
Secretary General of the Azerbaijan Gymnastics Federation (AGF) Nurlana Mammadzade welcomed the guests of the event.
In her speech, she noted that Baku is hosting this prestigious gymnastics competition for the third time. She recalled the previous AGF Trophy International Tournaments held in Baku in 2018 and 2019.
Noting that this is the third time Baku hosts this competition, she said that in contrast with the previous tournaments, this year the audience will witness performances of gymnasts from 14 countries, both in junior and senior age categories.
AGF Secretary General also emphasized that the organization of such prestigious competitions in Azerbaijan is not accidental.
" Major success of the Baku school has been demonstrated by the achievements of Azerbaijani gymnasts at major international competitions. As a result, international gymnasts are quite interested in the events being hosted in Baku. The number of gymnasts participating in the training camps in Baku is increasing day by day. All this is the result of the attention paid by our state to the development of sports in Azerbaijan, the work done under the leadership of the First Vice-President, President of the Azerbaijan Gymnastics Federation Mehriban Aliyeva," said Nurlana Mammadzade.
A total of 38 gymnasts, including 20 performing in individual programs (6 senior and 14 junior athletes) and 18 gymnasts within group teams (1 senior and 2 juniors in group exercises), are representing Azerbaijan in the tournament.
The winners will be determined in the all-around, team standings, and in separate apparatuses.
The first day of the competition will feature qualifications in the individual program for juniors and seniors in exercises with a hoop and ball, qualifications among junior teams in group exercises in a program with five ropes, as well as qualifications for senior teams in group exercises with 5 hoops.
The 3rd AGF Trophy International Tournament in Rhythmic Gymnastics will last until April 23.
---
Follow us on Twitter @AzerNewsAz