14 July 2015 18:28 (UTC+04:00)
816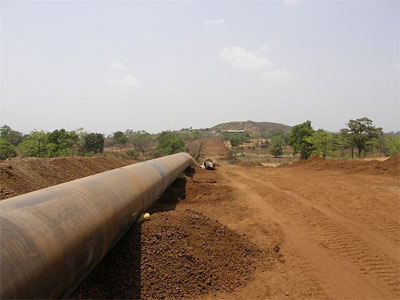 By Vusala Abbasova
The Turkmenistan-Afghanistan-Pakistan-India pipeline project members will announce the leader of the consortium this September, said Turkmen President Gurbanguly Berdimuhamedov during the visit of Indian Prime Minister Narendra Modi to Ashgabat.
After assigning a consortium leader, the implementation of the gas pipeline will finally get underway, said Berdimuhamedov.
The TAPI project member countries have to choose a company as the consortium leader, which will design, finance, and construct the pipeline.
The selected company will be offered a long-term contract and a significant share of the already established TAPI Ltd.
Turkmengaz, Afghan Gas Corporation, Pakistan Inter State Gas Systems (Private) Limited, and the Indian GAIL are included in the TAPI ltd operating team with equal shares.
Berdimuhamedov highlighted the importance of Afghanistan's participation in implementing large infrastructure projects that will provide not only economic support, but also present solutions to a range of social and humanitarian issues.
The gas pipeline will create additional jobs, transportation routes, communication networks, and social infrastructure along the gas highway, and above all, it will help maintain and strengthen political and social stability in the region.
The cooperation between India, with a population of 1.25 billion, and Turkmenistan, with its rich natural resources, will enter a new stage as a result of the implementation of the TAPI project, said Modi.
Both sides expressed confidence in the potential of the gas pipeline, with a proposed capacity of 33 billion cubic meters of natural gas per year.
The Asian Development Bank was appointed as the transaction advisor for TAPI in November 2013.
The project member countries have already signed a deal for the sale of gas, as well as determined extraction sources, including Galkinish field – the second largest gas field in the world.
The TAPI project, with estimated cost of roughly $7-10 billion, will extend from Galkinish field in Turkmenistan through the Afghan cities of Herat and Kandahar to its final destination at a settlement on the Pakistani-Indian border.
TAPI is an opportunity to aid in the stability of Afghanistan that could contribute to the rehabilitation process in the post-war country.
The implementation of the project will provide energy deficient South Asia with cheaper and cleaner energy from Central Asian countries.
The "Ashgabat interstate agreement of the state parties on the commencement of the practical implementation of the TAPI project" signed in late 2010 laid the foundation for the proposed 1735 km long TAPI project.
---
Follow us on Twitter @AzerNewsAz
Related News