European bank opens its office in Tbilisi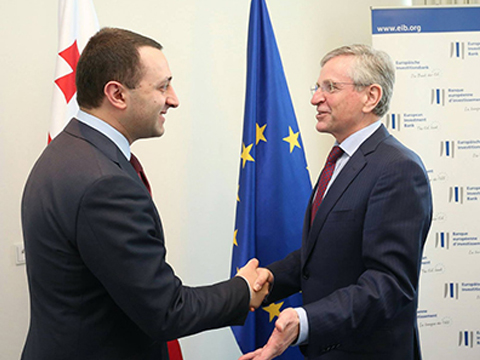 By Mushvig Mehdiyev
Europe's leading financial institution, the European Investment Bank, has opened its South Caucasus regional representative office in Georgia's capital Tbilisi.
The new office is viewed as the first of its kind in Tbilisi and in the region.
Explaining the plans on the office's agenda, the EIB officials said it would implement and coordinate its regional projects from the Tbilisi branch. The office will also serve to enhance its support for the public and private sectors and to strengthen relations with promoters and partner banks in the region.
The EIB Tbilisi office will reportedly cater for businesses in Georgia, Azerbaijan and Armenia.
"We saw a European prospective and business potential in Georgia. We saw Georgia implementing the Association Agreement regulations. That's why we decided to open an office in Tbilisi," said EIB's Molterer.
Molterer noted that the EIB wants to support Georgia in many directions including the infrastructure and agricultural sectors. "We can provide not only financial assistance but share our experience as well," he added.
Georgia's Finance Minister Nodar Khaduri said it was "very important" for Georgia and its capital to have such an important office in the country.
The EIB simultaneously issued 40 million euros to the Bank of Georgia, the country's largest bank, to finance investment projects promoted by small and medium enterprises and mid-capacity companies.
Earlier, the bank allocated 380 million euros to finance several investment projects and to support the state sector in Georgia. The EIB financial aid supported projects to develop the country's energy, water and road infrastructure and SMEs.
Georgian Prime Minister Irakli Garibashvili said every project financed by EIB have created additional jobs, which accordingly supported Georgia's economic growth and improved people's living conditions.
The announcement about opening an EIB representative office came in October 2014 after Finance Minister Khaduri met Molterer in Washington. The EIB has then said it would implement and coordinate its regional projects from Georgia.
- - -
Follow Mushvig Mehdiyev on Twitter: @Mushviggo
Follow us on Twitter: @Azernews