Iran launches home-made satellite into space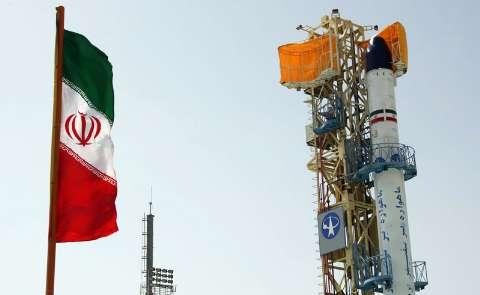 By Sara Rajabova
Iran, which has focused on development of the space program in recent years, successfully launched home-made satellite into space, according to Iranian media.
The satellite was put into elliptical orbit of 250 to 400 kilometers. Equipped with GPS navigation system, the fourth home-made satellite was put into orbit by Safir-e-Fajr launch vehicle, Press Tv reported.
Fajr is the fourth Iranian-made satellite put into orbit.
The satellite is different than the previous Iranian-made Omid, Rasad, and Navid satellites and uses micro-motors that provide it orbit-changing capability.
Taking photos for mapping and meteorological purposes as well as carrying tests for improving Iran's space technology are among the Fajr's missions.
The satellite was designed and built by Iran's defense ministry.
Sorena Sattari, Vice-President for Science and Technology said Iran plans to put into orbit a new home-made satellite.
"We will launch a satellite this week," Sattari said in Tehran on February 1 without revealing any further detail or the exact launch date.
In October, Hamid Fazeli, Deputy Head of Iran Space Agency (ISA) announced Tehran was preparing to orbit three new home-made satellites, called Zafar (Triumph), Tolou (Sunrise) and Pars, from more powerful launchers and on the back of bigger carriers in the near future.
Zafar is a monitoring satellite, which will be sent into a geostationary orbit that is a circular orbit around 36,000 kilometers (22,320 miles) above the Earth's equator. The satellite will reportedly have a lifespan of one year and six months. It will capture images and transmit them to stations on earth.
Tolou satellite will also carry out remote sensing and topography missions and will travel in an orbit of 500 kilometers above the Earth's equator.
Fazeli pointed to Iran's position in the global aerospace field, noting that the country is among the five emerging states active in this sector and that many countries are following Iran's lead in their space programs.
He also added that launching the under-construction satellites, including Sharifsat and Nahid, are also among the short-term plans of the ISA.
In last July, the ISA formulated a 10-year strategic plan, which incorporates three main sections, including sending humans as well as telecommunications and remote sensing satellites into space.
Earlier, Fazeli said the country plans to send a man into space in the next 4 years.
On January 28, 2013, Iran sent a monkey into space aboard an indigenous bio-capsule, code-named Pishgam (Pioneer), as a prelude to sending humans on space missions.
Iran launched its first indigenous satellite, Omid (Hope), in 2009. The country also sent its first bio-capsule containing living creatures into space in February 2010, using the indigenous Kavoshgar-3 (Explorer-3) carrier. Iran has frequently said that it will push ahead with its space program in the coming years.
The country is one of the 24 founding members of the UN Committee on the Peaceful Uses of Outer Space, established back in 1959.
--
Sara Rajabova is AzerNews' staff journalist, follow her on Twitter: @SaraRajabova

Follow us on Twitter @AzerNewsAz