11 June 2014 13:20 (UTC+04:00)
1 397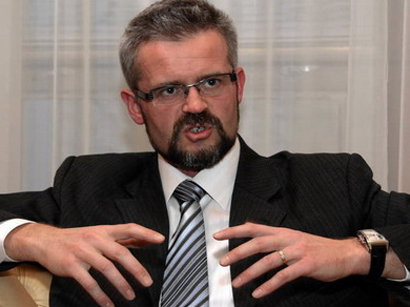 By Aynur Jafarova
The principles of the Energy Charter and those of the single oil and gas market of the Eurasian Economic Union (EEU) are similar, Secretary General of the Energy Charter Urban Rusnak said on June 10.
"The equal and non-discriminatory access to energy transportation is observed in both principles. It is important for them not to create a confrontation among the countries of the EU and the EEU," he noted.
The secretary general also expressed hope that an agreement between Russia and Belarus on cooperation in implementing Energy Charter will make a significant contribution to better cooperation among the EU countries and the EEU member-states in the context of integration process.
His statements were supported by Kazakh Oil and Gas Minister Uzakbai Karabalin.
"There is no fundamental difference between the rules of the Energy Charter and the EEU," Karabalin noted. "Consequently, no problem is in this regard. Russia and Belarus are not members of the Energy Charter and we hope that our partners in the EEU will soon enter this association."
The Energy Charter Conference is the supreme governing body of the Energy Charter, an international organization that sets legally binding rules in the international energy sector and brings together 52 Eurasian countries.
Kazakhstan joined the Energy Charter Treaty in 1995.
The Energy Charter Treaty of 1991 which is sometimes referred to as the European Energy Charter is a political declaration designed to promote energy cooperation between East and West.
Karabalin went on to say that the Astana road map which will determine the new strategy of development of the Energy Charter in the coming five years will be concluded in November this year.
The last such document was signed in Rome in 2009.
Karabalin noted the road map will be signed at the end of the 25th Conference on Energy Charter in Kazakhstan.
Related News