Iran nuclear programme dominates Chuck Hagel's first visit to Israel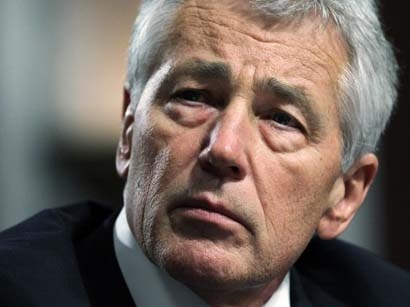 US Defence Secretary Chuck Hagel said Sunday that Washington wanted "more time" for sanctions to work and stop Iran from pursuing nuclear weapons, DPA reported.
The use of military force must remain on the table, but only as a "last option," he said as he started a six-day tour that will take him to Israel and four other Middle Eastern allies.

But he also emphasized Washington's acknowledgement that Israel had a right to decide to strike alone against Iran's nuclear facilities in self-defence.

Hagel told reporters on board his plane to Tel Aviv that international sanctions were hurting Iran significantly.

If they did not work, the military option must remain on the table, but as a last option.

He insisted that Israel and the US "see the threat of Iran exactly the same, as do many other countries."

"Israel will make the decisions that Israel must make to protect itself and defend itself," he said.

Hagel landed in Tel Aviv Sunday for his first visit since taking office.

He said he chose Israel as his first stop to underscore Washington's commitment to its security.

The tour will also take him to Jordan, Saudi Arabia, Egypt and the United Arab Emirates. In Israel, he visited Jerusalem's Yad Vashem Holocaust memorial centre and museum, accompanied by his Israeli counterpart, Moshe Yaalon.

Hagel is also scheduled to meet Netanyahu himself, as well as President Shimon Peres.

At Yad Vashem, Hagel, who took office in February, raised eyebrows by mentioning Israel's 2010 boarding of the Turkish Mavi Marmara passenger ship in the same breath as last week's terrorist attack upon the Boston Marathon.

Israel last month - spurred by visiting US President Barack Obama - apologized to Turkey for killing nine Turkish pro-Palestinian activists when it stopped the ship as the vessel attempted to break a naval blockade of the Gaza Strip.

"I know it's an emotional issue for some people. I particularly say to the families of people who were lost in the incident, you know we understand these tragedies completely and we sympathize," Hagel said.

He added that having "just been through the week of Boston" he had "deep feelings for what happens when you have violence and something happens and you lose people who are near you."

Israel's two main evening news bulletins criticized Hagel for mentioning the two in one breath. Most Israelis regard as self-defence the actions of the naval commandos, who were attacked with sticks and knives as they seized the Mavi Marmara.

During his tour, Hagel plans to finalize a "historic" multibillion-dollar arms deal that will boost US allies' military capabilities with relation to Iran and other "common threats."

The agreement with Israel, Saudi Arabia and the United Arab Emirates is said to amount to 10 billion dollars.

A senior US defence official Saturday called the agreement "one of the most significant and complex and comprehensive that we've seen."

The official also called the agreed Israeli purchases "unprecedented."

He said they included advanced radar for Israeli fighter jets, anti-radiation missiles and refueling tankers, including the V-22 Ospreys "never sold to any other countries before."

The Syrian conflict would also be a focus of the Hagel's talks.