Poland purchases Bayraktar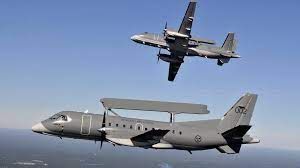 Poland has purchased long-range radar detection aircraft from Sweden, Polish Armament Agency spokesman Grzegorz Polak told PAP news agency, Azernews reports, citing the Polish Ministry's press information.
"The agency has ordered Saab 340 AEW long-range radar detection aircraft based on the Armed Forces' needs in the field of electronic reconnaissance of the lower atmosphere," he said.
"Additionally, Bayraktar TB2 drones, among others, have been purchased, and a contract is also planned to be signed soon for the delivery of balloons, which will significantly increase the capabilities of the Armed Forces and expand the radar reconnaissance area," Polyak added.
He also said that "last month the construction of the Delfin electronic reconnaissance ship was laid down, which will be handed over to the Polish Navy in 2027."
"This is another ship that will be able to conduct radar reconnaissance in maritime waters. It is the most modern solution of this type, which will allow closing the maritime border," Polak emphasized.
Poland has recently taken steps to strengthen its defense capabilities by acquiring long-range radar detection aircraft from Sweden. On May 22, 2023, Deputy Prime Minister and Minister of National Defense Mariusz Blaszczak revealed that Poland is currently engaged in discussions with Sweden regarding the procurement of airborne early-warning aircraft.
The most likely platform being considered for purchase is the GlobalEye, developed and delivered by the Swedish company Saab. This solution combines Erieye extended-range radar and other sensors with the ultra-long-range Global 6000 aircraft from Bombardier, which adds over 11 hours of operational endurance. The aircraft's multi-role capabilities allow it to detect and track a wide range of targets, including airborne, maritime, and ground-based threats, enabling better-informed decision-making.
The GlobalEye AEW&C aircraft features a suite of modern active and passive sensors, providing long-range detection and identification of objects across multiple domains. It is equipped with Erieye Extended Range radar, which has a maximum detection range of 550 kilometers (341.7 miles) and prevents electronic clutter and jamming by enemy forces. The aircraft's Active Electronically Scanned Array (AESA) radar also allows the military to focus on specific areas or targets of interest. Additionally, GlobalEye provides real-time information to military units, increasing their situational awareness and threat detection capability.
The Swedish Defence Materiel Administration has ordered the GlobalEye AEW&C aircraft from local aerospace firm Saab. Valued at 7.3 billion Swedish Krona ($711 million), the agreement requires the company to deliver two GlobalEye aircraft by 2027. If Poland decides to acquire GlobalEye, it would join the ranks as the third operator of the aircraft. Currently, Saab is in the process of delivering GlobalEye units to Sweden and the United Arab Emirates.
By acquiring the GlobalEye from Sweden, Poland is taking an important step in strengthening its defense capabilities and increasing its situational awareness. This aircraft will enable Poland to better detect and track a wide range of targets, including airborne, maritime, and ground-based threats, and provide real-time information to military units.
---
Follow us on Twitter @AzerNewsAz