3 killed in stabbing, shooting in central Japan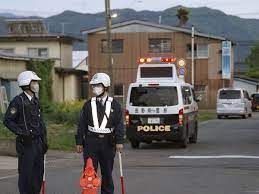 A woman and two police officers were killed on Thursday in a stabbing and shooting incident involving a man armed with a hunting rifle in Japan's central prefecture of Nagano, local media reported, Azernews reports citing Xinhua.
The male suspect, after fleeing the scene, has holed up in a nearby building which is possibly the residence of a local assembly speaker, where multiple gunshots were heard at night, according to local media outlets.
Local police said another man sustained injuries, but his conditions remained uncertain as he was still in close proximity to the scene to be evacuated at the moment.
Police received an emergency call at around 4:25 p.m. local time about a man stabbing a woman in the city of Nakano. The police officers who rushed to the scene were shot, Kyodo News reported.
The suspect was last seen wearing camouflage clothing, a hat, sunglasses and a mask, the report said.
Residents in the area have been advised to stay indoors as the man is at large, it added.