21 August 2017 17:07 (UTC+04:00)
2 277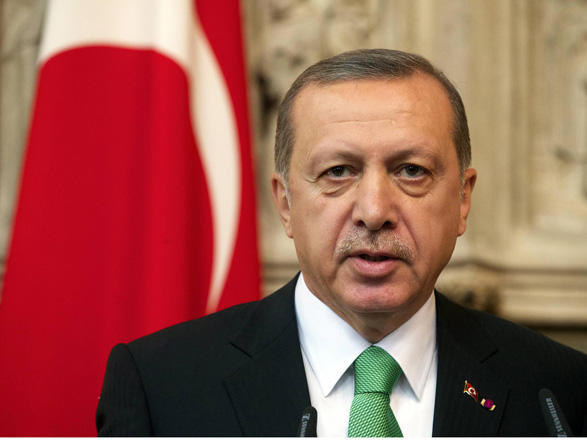 By Ali Mustafayev
Turkish President Recep Tayyip Erdogan stressed that a joint Turkish-Iranian operation against terrorist organizations in the region is possible, a week after Tehran's top armed forces commander visited Ankara for the talks.
"It is always on the agenda to carry out a joint operation with Iran against those terror organizations which pose a threat," Erdogan told reporters in Istanbul before a trip to Jordan on August 21, Turkish media reported.
Reportedly, Erdogan added that the details were discussed during the meeting between Chief of Staff of the Iranian Armed Forces Mohammad Baqeri and Chief of Turkish General Staff of Hulusi Akar in Ankara.
The Turkish and Iranian military chiefs in their meeting in Ankara on August 15 shook hands on a joint de-escalation zone mechanism in Idlib, which would also include the Russian military, Daily Sabah reporter earlier. The generals came to a mutual understanding for the controversial Syrian town to "easily sort out the issue." The sources stressed that even though Ankara and Tehran are on the same page regarding Idlib, experts from all three countries will work on the details of the three-way mechanism.
Erdogan's announcement followed a statement of Iran, which proposed Turkey to launch joint military operations against terrorist organization PKK in the North of Iraq.
Media reports that Iran and Turkey are currently negotiating on the start of the military operations at nine sites in northern Iraq. No other details of the forthcoming military operations are reported
The conflict between Turkey and the PKK, which demands the creation of an independent Kurdish state, has continued for more than 30 years and has claimed more than 40,000 lives. The UN and the European Union list the PKK as a terrorist organization.
The Turkish army has been waging a relentless campaign in the last months to eradicate the PKK, and occasionally launches air raids against the group's bases in northern Iraq.
Previously Ankara announced that it is ready to counter any threat at its borders. The Turkish Armed Forces were brought to full combat readiness in connection with the expected new military operations in Syria against the YPG.
Ankara accuses the YPG, which controls large swathes of Syrian territory along its border, of being an offshoot of the terrorist PKK and calls on military allies, in particular the U.S., to cease the support.
Turkish President Recep Tayyip Erdogan and Prime Minister Binali Yildirim both stated that military operations against the PKK will continue until its complete eradication.
---
Follow us on Twitter @AzerNewsAz
Related News