Turkmenistan, South Korea seeks to deepen high-level cooperation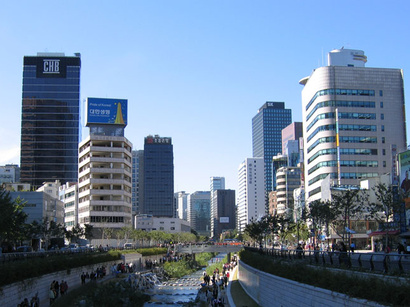 By Ali Mustafayev
Seoul expressed willingness to enhance cooperation with Ashgabat in gas and oil industry. The partnership of the two countries has a sufficient influence on Central and East Asia since the scale of their interaction in construction and commodity industries has multiplied significantly.
The friendly cooperation between the Republic of Korea (South Korea) and Turkmenistan will continue to expand, reassuringly said South Korean President Moon Jae-in in his letter to the Turkmen President Gurbanguly Berdimuhamedov sent on the occasion of the 25th anniversary of the establishment of diplomatic relations between the two countries.
Moon Jae-in noted that during his presidency, he will make every effort to develop a mutually beneficial partnership between South Korea and Turkmenistan.
"I wish you robust health and happiness, as well as further progress and prosperity for Turkmenistan," added the South Korean President.
Korea is keen to deepen partnership with Turkmenistan in such areas as the development of gas fields, creation of petrochemical and gas infrastructures and modernization of the industry.
Currently, the building process of gas chemical complex with total cost of $3.4 billion is leaded by the Korean LG and Hyundai companies and the Japanese company TOYO. The complex, which will produce polyethylene and polypropylene is expected to be put into operation in September, 2018, according to Trend.
The enterprise is expected to produce 5 billion of cubic meters of processed gas, 386,000 tonnes of polyethylene and 81,000 tonnes of polypropylene per year.
Previously, Korean companies LG and Hyundai completed the development of the largest gas deposit Galkynysh in Turkmenistan. Moreover the consortium also works on the project of the oil refinery factory in Turkmenbashi.
Besides oil and gas industries, Seoul and Ashgabat pay attention to the cooperation in transport sector in the context of development of transit and logistics infrastructure under East-West and North-South lines with the European and Middle East markets' access.
The transit corridors with access to the Caspian Sea, Black Sea basin and Baltic States will allow to reach an optimal way to the European and Middle east markets.
--
Follow us on Twitter @AzerNewsAz