Uzbekistan receiving condolences over Islam Karimov's death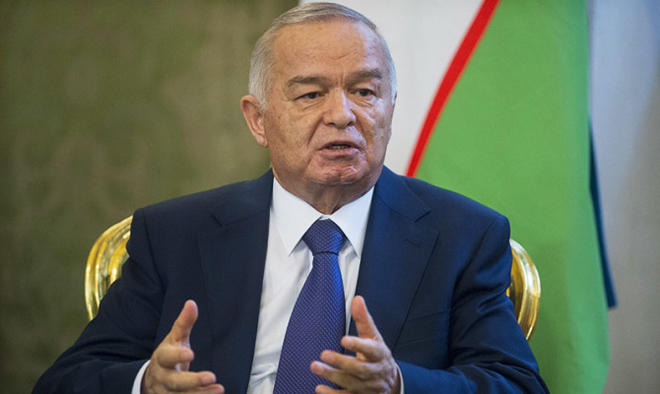 Heads of various countries and international organizations have expressed condolences to Uzbek people and leadership over the death of the country's President Islam Karimov.
"It is with great regret that I received the news of the death of President of the Republic of Uzbekistan, outstanding statesman, public and political figure Islam Abduganiyevich Karimov," Azerbaijan's President Ilham Aliyev said in his letter of condolences.
"He is associated with the formation, development and strengthening of the state independence and sovereignty of the country, its accomplishments and successes in socio-economic and political areas, brotherly Uzbekistan's integration into the international community," President Aliyev said.
"A far-sighted, principled and consistent policy, organizational talent, a truly state approach to most difficult tasks fairly earned Islam Karimov the people's love, deep respect and great authority both in Uzbekistan and beyond," he added.
In his letter of condolences, Russian President Vladimir Putin said Karimov's departure from life is a great loss for the Uzbek people, as well as the Commonwealth of Independent States and the countries-partners of the Shanghai Cooperation Organization.
"Islam Karimov was a prominent statesman, a true leader of the country. The most important milestones in the history of modern Uzbek state are associated with his name," said Putin.
Chinese President Xi Jinping and Premier of Chinese State Council Li Keqiang said Karimov had made great efforts for developing the strategic partnership between the two countries and strengthening the friendship between the peoples of China and Uzbekistan.
The US President Barack Obama has said, "At this challenging time of President Islam Karimov's passing, the US reaffirms its support for the people of Uzbekistan."
"The US remains committed to partnership with Uzbekistan, to its sovereignty, security, and to a future based on the rights of all its citizens," the White House quoted Obama as saying in a statement.
Uzbekistan continues receiving condolences over the death of President Islam Karimov, who passed away Sept. 2.
Earlier, it was reported that Islam Karimov was hospitalized Aug. 27 after suffering a stroke.
Karimov will be buried in Samarkand Sept. 3.
The Uzbek president's funeral will be held in accordance with Muslim traditions.
Karimov was born January 30, 1938 in the city of Samarkand, Uzbekistan. He was the first president of Uzbekistan since the country gained independence in 1991.
In the Soviet period, Karimov served as first secretary of the Central Committee of the Communist Party of the Uzbek Soviet Socialist Republic from 1989 to 1991.
He also served as the head of the Uzbek government in 1990-1992.
---
Follow us on Twitter @AzerNewsAz