Azerbaijan to up oil production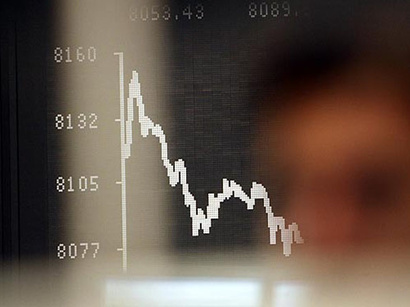 By Gulgiz Dadashova
The energy-rich Azerbaijan is expected to slightly increase oil production by late 2015.
The country's oil production will hit 0.88 million barrels a day in the third and fourth quarters of the year, according to the U.S. Energy Information Administration's Short-Term Energy Outlook.
The country's oil production stood at 0.86 million barrels a day in the first quarter and 0.87 million barrels a day in the second quarter of this year, according to the EIA's forecasts.
Average volume of Azerbaijan's oil production is predicted by the EIA at 0.87 million barrels a day. For the next year EIA forecasts Azerbaijan's oil production to be at the same level.
The highest level of the country's oil production in 2016, according to the EIA's forecasts, will be observed in the first and second quarters - at 0.88 million barrels a day. In the third and fourth quarters the production will amount to 0.87 million barrels a day.
Azerbaijan, wholly located within the South Caspian Sea basin, is among the oldest oil producers in the world. The country is one of the Caspian region's most important strategic export routes to the West.
The country's largest hydrocarbon basins are located offshore in the Caspian Sea, particularly the Azeri-Chirag-Guneshli (ACG) block of oil and gas fields, which accounted for almost 75 percent of Azerbaijan's total oil output in 2013. This block produces Azeri Light oil with a sulfur content of 0.15 percent (35 degrees API).
In 2014, British BP and partners extracted 31.5 million metric tons of oil (233 million barrels) against 32.2 million metric tons of oil (239 million barrels), extracted in 2013 on a block of Azerbaijani oil and gas fields Azeri-Chirag-Guneshli.
Switching focus to gas
Meanwhile, the senior director at Fitch Ratings international rating company Maxim Edelson stated that Azerbaijan needs to highlight its gas projects.
"Such projects as the construction of the Trans-Adriatic Pipeline (TAP) and the Trans-Anatolian (TANAP) Pipeline should be very attractive for Azerbaijan," he told Trend. "Today, due to the geopolitical relations, Europe tries to reduce its gas dependence on Russia. Here, Azerbaijan can play a role of an initially small, but potentially, an increasingly important additional supplier."
Moreover, Edelson said that Azerbaijan will be able to become a transit country for supplying Turkmen and Iranian gas to Europe.
Noting that the oil market is different from the gas market, Edelson assures that switching to the gas production can be a very wise strategy for Azerbaijan, since the gas market is less saturate and less competitive, unlike the oil market.
"Therefore, it would be beneficial for Azerbaijan to switch to expanding the gas production volume," he said.
Azerbaijan's total gas exports stood at 4.547 billion cubic meters (bcm) during the first half of 2015, including 896 million cubic meters of gas which exported by SOCAR, according to the State Statistics Committee.
SOCAR Vice President for Oil and Gas Production Rahman Gubanov earlier stated that the country plans to produce 291 million barrels of oil and 1.07 trillion cubic feet of natural gas in 2015.
These figures are a slight improvement over the previous targeted amounts of 288 million barrels and 1.02 trillion cubic feet and comparable with what Azerbaijan produced last year.
--
Follow us on Twitter @AzerNewsAz