21 August 2015 09:32 (UTC+04:00)
1 631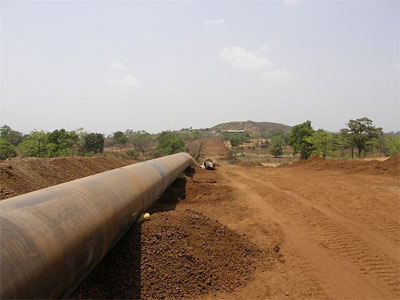 By Aynur Karimova
Azerbaijani gas can go further to reach western European countries that need the "blue" fuel as an additional supply source for their heavy industries.
Despite the fact that the Trans-Adriatic pipeline ends in Italy, the presence of the transit system makes it possible to deliver Azerbaijani gas to such countries as Switzerland, Austria, France, Germany, Belgium, and even the UK.
This remark was made by TAP Managing Director Ian Bradshaw, local Turkish media outlet reported on August 18.
"The gas from the Shah Deniz-2 will play an important role in meeting the demand for gas of such countries as Bulgaria and Greece," Bradshaw said.
The TAP project, which envisages the transportation of gas from the second stage of development of Azerbaijan's giant Shah Deniz gas condensate field in the Caspian Sea to European Union countries, has already ensured its strategic role in the EU's energy security.
TAP is meant to transport gas from the Caspian region via Greece, Albania, and the Adriatic Sea to southern Italy and further to Western Europe. Its total length will be about 870 kilometers.
The construction of the pipeline is scheduled to start on May 16, 2016. TAP's initial capacity will be 10 billion cubic meters per year, expandable to 20 billion cubic meters per year.
Touching upon Iran's participation in the TAP project, Bradshaw noted that TAP has not yet received any proposals from Iran to join the project and hasn't offered Iran to take part in it either.
"There have been no contacts with Iran about its participation in the project until now either from our or their part," said Bradshaw. "The realization of TAP is being carried out in accordance with EU legislation and sanctions related with it. In this context, the project is always open to any companies that increase its strategic importance."
TAP is considered by some as a reliable route for supplying Iran's gas to Europe.
"Iran is examining various routes for supplying its gas to other countries, and TAP is one of those routes. We have already had preliminary talks with Azerbaijan and have done certain work in this regard," Mehdi Mohtashami, the head of the secretariat of the Azerbaijan-Iran intergovernmental commission for cooperation in trade, economic and humanitarian spheres, told Trend earlier.
The construction of TAP will not only provide European countries with Azerbaijani gas, but also pave the way for establishing a significant gas pipeline and infrastructure network in the region.
It is expected that TAP AG will conclude several large contracts this year, including onshore and offshore pipeline construction, compressor stations, and piping.
Lisa Givert, TAP's head of Communications told Trend on August 18 that currently, TAP is in early discussions with several lenders.
"TAP expects to secure funding from a number of multilateral institutions, such as the European Bank for Reconstruction and Development and the European Investment Bank, as well as Export Credit Guarantee Agencies of a number of OECD countries involved in the supply of goods and services," Givert said.
--
Aynur Karimova is AzerNews' staff journalist, follow her on Twitter: @Aynur_Karimova
Follow us on Twitter @AzerNewsAz
Related News