24 March 2014 12:04 (UTC+04:00)
7 977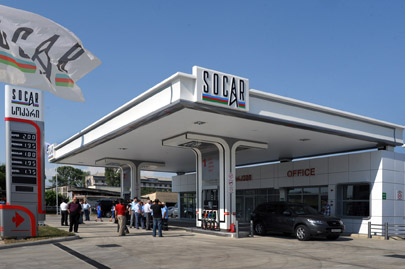 By Nigar Orujova
Azerbaijan's state energy company SOCAR opened its 108th petrol station and the 15th combined type of a station in Tbilisi, Georgia, last week.
The opening ceremony was attended by SOCAR President Rovnag Abdullayev, SOCAR Vice President Suleyman Gasimov, Head of the Investment Department of SOCAR Vagif Aliyev, Azerbaijani ambassador to Georgia Azer Husseyn and Director of SOCAR Georgia Mahir Mammedov.
The station, where car owners will be able to buy fuel, oil products and natural gas as well as accumulate gift bonus points on UNICARD and ENEGRY CARDs, is equipped with fuel-distribution columns of the Japanese brand "Tatsuno" which is distinguished with most precise petrol filling and registering.
The gas petrol station is equipped with the most recent generation gas-compressing appliance of the Argentinean brand "Galileo" which provides fast filling of gas into the car with maximum pressure above the acceptable level and, what's most important, safe filling of gas into the user's automobile.
The station will also offer consumers the service of the 24-hour cafe-market. Besides, car owners will be able to use a special service block at the petrol station by means of which it is possible to regulate the pressure in tires, add water, and car salon cleaner. Twenty five persons will serve the site.
The company plans to increase the number of petrol stations in Georgia to 120 by late 2014.
Stations in Romania
SOCAR also opened its 27th filling station in Romania on March 21.
The first gas station in the city of Cluj, located on Traian Vuia Street costs $1 million and occupies an area of 3,500 square meters. The gas station is equipped with four fuel pumps and uses the latest technology. Heavy vehicles also can fuel from the new station.
The new station promotes the services from whole network SOCAR such as multi- product store, the Nar Cafe - the place of traditional products such as coffee in the sand and fresh pomegranate and the fast food area. In addition, consumers have tablets available for web browsing and a digital kiosk to guide traffic.
CEO SOCAR Romania Hamza Karimov and representatives of the local government of Cluj-Napoca and representatives of management structure of the company attended the inaugural ceremony.
"The opening of Cluj station is the signal of our network extending in Transylvania region also where we work with other stations, which we estimate that we will complete all this year.
Since the beginning of 2014 we opened eight new stations in Romania and expansion plans will continue in the same dynamic. Our team size has almost doubled in the last year, today our national team numbering more than 400 employees," Karimov said.
The company entered the Romanian market by buying local filling stations from Romtranspetrol and re-branding them in 2011. Becoming one of the most important players on the fuel distribution in the northeast of Romania, SOCAR plans to bring the number of its gas stations in Romania to 100.
Related News