5 November 2012 19:34 (UTC+04:00)
1 193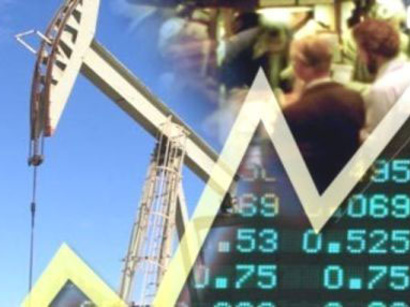 By Sara Rajabova
Iran's crude oil prices fell by 20 cents a barrel to $108, the Fars news agency quoted energy expert Esmaeil Rahimi as saying on Saturday.
"Crude oil prices have decreased in Asian markets due to the fact that production resumed in the U.S. after Sandy hurricane subsided recently", he said.
Oil prices sank on Friday after an encouraging U.S. jobs report was overshadowed by post-Sandy shutdowns at U.S. East Coast refineries.
On the other hand, the Iranian Oil Minister Rostam Qasemi says Tehran may revise its policy over oil supplies to international markets if the hegemonic system proceeds with its efforts to exert more pressure on Iran's oil industry and limit the country's oil exports.
Qasemi said on Saturday lack of Iran's oil in global markets can affect energy prices across the world and prepare the ground for the emergence of a broad crisis in the West's industrial economies, Press TV reported.
Qasemi threatened on Saturday that the country will halt all its oil exports if the "external pressures" maintain on the Islamic Republic's oil sector.
"We have been trying to negotiate to help the oil sector suffer the least losses, but if pressures and restrictions go on, we will revise the policy to supply oil to the industrial world," ISNA news agency quoted Qasemi as saying.
Earlier on October, Qasemi was quoted by news agencies at the World Energy Forum in Dubai as saying that Iran had plans to survive without any oil revenue if further sanctions were applied.
"If you continue to add to the sanctions, we cut our oil exports to the world," the minister was quoted as saying. "We are hopeful that this doesn't happen, because citizens will suffer. We don't want to see European and U.S. citizens suffer."
Earlier last week, the US Energy Department has warned that imposing oil embargoes on Iran would aggravate the dire conditions of the global oil market by widening the gap between supply and demand.
In early 2012, the United States and the European Union imposed sanctions on Iran's oil and financial sectors with the goal of preventing other countries from purchasing Iranian oil and conducting transactions with the Iranian Central Bank. The sanctions came into force in early summer 2012.
On October 15, the EU foreign ministers reached an agreement on another round of sanctions against Iran.
Iran's oil crude export has fallen reportedly from 2.3 mbpd in 2011 to above 1 mbpd.
The sanctions were imposed based on the accusation that Iran is pursuing non-civilian objectives in its nuclear energy program.
Iran rejects the allegations, arguing that as a committed signatory to the Non-Proliferation Treaty (NPT) and a member of the International Atomic Energy Agency (IAEA), it has the right to use nuclear technology for peaceful purposes.
Related News