4 January 2018 10:05 (UTC+04:00)
3 025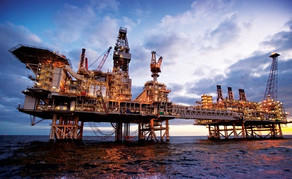 By Sara Israfilbayova
The State Oil Fund of Azerbaijan (SOFAZ) will receive $428.9 million in 2018 from the sale of profitable gas from the gas condensate field Shah Deniz in the Azerbaijani sector of the Caspian Sea, according to forecasts.
On the basis of the Production Sharing Agreement (PSA), the next fund receipts for other operated fields are expected: Kursangi-Garabagli deposits - $2.08 million, Surakhani-Garachuhur deposits - $3.25 million, Zykh-Hovsan deposit - $0.87 million, Muradkhanly-Jafarli-Zardab deposits - $2.39 million, Neftchala-Khylly deposit - $0.37 million, Mishovdag-Kelameddin deposits - $1.43 million, Kurovdag deposit - $2.02 million, Balakhani-Sabunchu-Ramana and Kurdakhani deposits - $11.43 million, Binagadi block deposits - $4.11 million, Gum-Deniz and Bahar deposits - $1.74 million.
SOFAZ's revenues from the sale of profitable oil and gas in 2018 are projected at $5.653 million, which exceeds the corresponding indicator of 2016 by 16.9 percent.
From the sale of profitable oil from the Azeri-Chirag-Gunashli (ACG) field, the fund will receive $ 5.194 million, according to forecasts.
A contract for development of ACG block of oil and gas fields was signed in 1994 for 30 years.
Thirteen companies from eight countries (Azerbaijan, the U.S., Great Britain, Russia, Turkey, Norway, Japan, Saudi Arabia) have participated in signing of the "Contract of the Century".
Azerbaijan's state oil company SOCAR and BP-operated Azerbaijan International Operating Company (AIOC) signed an agreement on future development of the ACG field in December 2016.
The agreement will cover the development of the field until 2050 and will add significant resource development potential. The document specifies the key commercial terms for the future development of the ACG field and enables the parties to conclude negotiations and finalize fully-termed agreements in the next few months.
The proven oil reserves of the block amounts to approximately 1 billion tons.
Shareholders of the ACG development include BP with 35.8 percent, Chevron - 11.3 percent, Inpex - 11 percent, AzACG - 11.6 percent, Statoil - 8.55 percent, Exxon - 8 percent, TRAO- 6.75 percent, Itochu - 4.3 percent and ONGC - 2.7 percent.
SOFAZ was established under the Presidential Decree, dated December 29, 1999, "On Establishment of the State Oil Fund of the Republic of Azerbaijan".
The main purpose of the establishment of the Fund was to preserve and multiply the income derived from oil, create an excellent economic base, taking into account social needs, the requirements of economic progress and development of the country. Besides, the challenge ahead is to protect the country's economy from possible negative influences caused by the growth of foreign exchange earnings and avoidance of damage to financial discipline.
---
Follow us on Twitter @AzerNewsAz
Related News