Parades to honor Gallipoli Battle start in Canakkale (Update )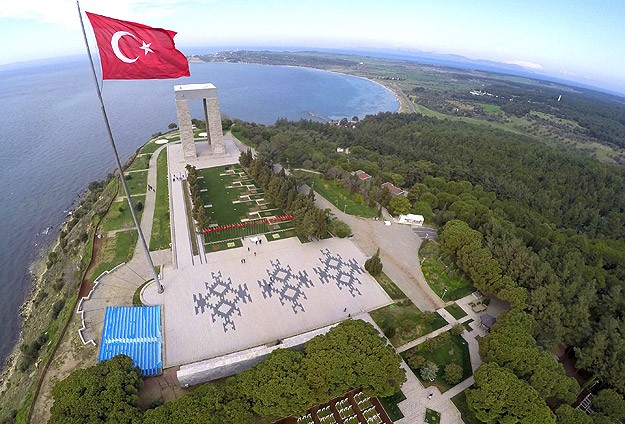 By Sara Rajabova
Festive parades in honor of the victory in the Gallipoli Battle kicked off in Turkey on April 24, TRT Haber news channel reported.
The centenary is expected to be the largest ever commemoration of the battle.
Turkish President Tayyip Erdogan, Presidents of Azerbaijan, Turkmenistan and Iraq and Qatar's Emir Sheikh Tamim Bin Hamad Bin Al Thani, Australian Prime Minister Tony Abbott, New Zealand Prime Minister John Key and Prince Charles are among the participants.
"Celebrating the victory at the battle of Gallipoli shows again that there is a culture in Turkey to forget the suffering caused by others onto us, for the sake of our common future," President Erdogan said in its statement on the celebrations.
The world leaders will attend ceremonies throughout April 24 on the beaches where the Allied troops launched their attacks, only to be met by fierce Ottoman resistance that lasted until the evacuation of the last Allied troops in January 1916.
Turkey hosts world leaders to commemorate the centenary of the Battle of Gallipoli - WWI - sending out a message of reconciliation and patriotic pride over one of the most dramatic Ottoman victories of the war.
The battle of Gallipoli, which took place during World War I, killed over 500,000 people.
The Gallipoli campaign took place on the Gallipoli peninsula during the Ottoman Empire in between 1915 and 1916 by Entente countries, in order to capture the Turkish capital of Istanbul and open a sea route to Russia. The campaign was one of the greatest Ottoman victories during the war and a major Allied failure. In Turkey, it is regarded as a defining moment in the nation's history: a final surge in the defense of the motherland as the Ottoman Empire crumbled.
Gallipoli was long a defining moment in Turkey's national consciousness. Young colonel Mustafa Kemal - later known as Ataturk - was its great hero. He went on to found the secular republic on the ashes of the Ottoman Empire in 1923.
Some 130,000 soldiers perished, 87,000 of them from the Ottoman side. The battle also involved Azerbaijani soldiers.
In Turkey, the battle of Gallipoli is also called the "gentlemen's war." Turkey's officials have repeatedly said it was one of the bloodiest battles in the country's history, however, the warring sides never forgot about their humanity.
--
Sara Rajabova is AzerNews' staff journalist, follow her on Twitter: @SaraRajabova

Follow us on Twitter @AzerNewsAz