Obama administration should heed Azerbaijan's calls, says expert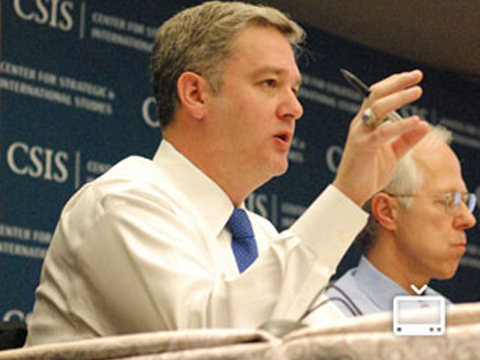 By Mushvig Mehdiyev
American expert called on the U.S president to turn to a constructive engagement in view of settling the Nagorno-Karabakh conflict.
Referring to President Barack Obama's call for strategic patience around the globe, Gregory T. Kiley, an expert at the Center for Strategic and International Studies, said that throughout Europe, Africa and the Middle East, there are already numerous failing examples of the Obama administration's strategic patience.
Exampling the case of Azerbaijan, he offered to end this approach towards worldwide conflicts and to return to a constructive engagement for charting a path between isolation (strategic patience) and intervention (pre-emption).
Kiley wrote: "What about constructive engagement? Azerbaijan provides a possible case in point. Fighting between Azerbaijan and neighboring Armenia has escalated in recent months, though largely overshadowed by conflicts elsewhere around the globe. The conflict threatens stability in the region. The United States has compelling interest to get more actively involved beyond just chairing the Minsk Group together with Russia and France to find a peaceful solution to the Nagorno-Karabakh conflict."
As for Azerbaijan's opinion in the U.S. strategic patience proposal, Kiley said earlier this year that leaders from Azerbaijan called on the Obama administration to articulate a more clear long-term geopolitical strategy for their region, warning that America was in danger of losing influence while its allies risk losing access to energy resources.
"The Obama administration only stating a wish to "enhance ties with countries in the Caucasus while encouraging resolution of regional conflict" in their strategy and it is not enough," he added.
Kiley noted that in 1991, Azerbaijan gained its independence and has proven to be a strategic partner to the United States and a reliable international ally, as well. The Baku-Tbilisi-Ceyhan oil pipeline originating in Azerbaijan currently exports roughly 1 million barrels of oil per day. The proposed Trans-Caspian Gas pipeline will help answer Europe's growing need for oil and gas.
Azerbaijan has also been a strategic transit location for the U.S. military troops, equipment and supplies, as the country provides a secure transit route for nearly half of NATO's International Security Forces operating in Afghanistan, said Kiley.
Explaining his address, Kiley claimed that this is not a call to arms and intervention, but to not let the pendulum swing too far to "patience" and abdication of the U.S. role as world leader.
"Azerbaijan is asking for U.S. leadership, and Obama should heed the call. Failure to do so risks our national security – and the security of our allies in Europe – for the goal of being patient. Which is not a goal, but rather, an excuse to avoid taking a leadership role around the world," he concluded.
The U.S. is now acting as co-chair country of the OSCE Minsk Group taking upon the efforts to achieve advancement in the stagnated Nagorno-Karabakh conflict.
American political expert, former Minsk Group mediator, Matthew Bryza voiced almost a similar call for the White House, when on April 2 he said that Obama needs a precise approach towards the Nagorno-Karabakh conflict.
Azerbaijan's internationally recognized Nagorno-Karabakh territory was turned into a battlefield and zone of aggravated tensions after Armenia sent its troops to occupy Azerbaijan's lands in the 1990s. As a result, 20 percent of Azerbaijan's internationally recognized territory stands under military occupation. For the past two decades, and despite calls from the international community, Armenia has refused to withdraw its troops and retreat within its national borders.
- - -
Follow Mushvig Mehdiyev on Twitter: @Mushviggo
Follow us on Twitter: @Azernews