Azerbaijan displays new home-made machine gun in Abu-Dhabi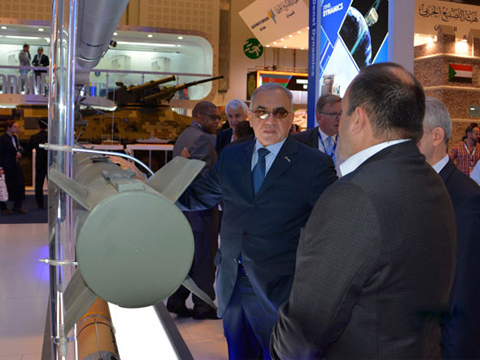 By Mushvig Mehdiyev
Azerbaijani delegation has joined the International Defense Exhibition IDEX-2015 in the capital city Abu Dhabi of United Arab Emirates attended by more than 1,050 companies from around the world.
The delegation led by Yavar Jamalov, Defense Industry Minister held a number of working meetings with several international companies at the exhibition.
IDEX is the most strategically important tri-service defense exhibition in the world, which provides the optimum business environment for international solution providers across land, sea and air sectors to target buyers in the Middle East and North Africa.
Azerbaijan's Defense Industry Ministry presented its stand at the exhibition featuring wide range of domestically made weapons.
The stand put on displays products made in Azerbaijan, including sniper rifles Istiglal-T, Mubariz, Yalguzag and Yirtici, as well as offensive NR-7.62 machine gun, and ammunition for hand grenades of RPG type. The products drew wide attention of the participants.
Azerbaijan has also for the first time displayed the newest EM-14 machine gun, which supports firing with bullets of 5.65x45 caliber that meet the NATO standards.
The Azerbaijani delegation viewed the defense industry stands of Sudan, UAE, Pakistan, South African Republic, Ukraine, Turkey and other countries.
Jamalov, said Azerbaijan would start the serial production of new types of weapons soon. "We plan to launch the serial production of VOG-25 grenades and ammunition for the AGS-30 automatic grenade launchers," he noted.
In 2015, Azerbaijan will launch mass production of "smart" air bombs, which were put on display at the international ADEX 2014 defense industry exhibition in Baku last September.
Azerbaijan succeeded to demonstrate 132 products of its defense industry in the DSA-2014 exhibition in Kuala Lumpur in 2014.
The Defense Industry Ministry of Azerbaijan increased its production volume by 26.3 percent in 2014, and achieved a growth in the production in 2014 compared to the previous year.
- - -
Follow Mushvig Mehdiyev on Twitter: @Mushviggo
Follow us on Twitter: @AzerNews