3 October 2014 14:20 (UTC+04:00)
1 937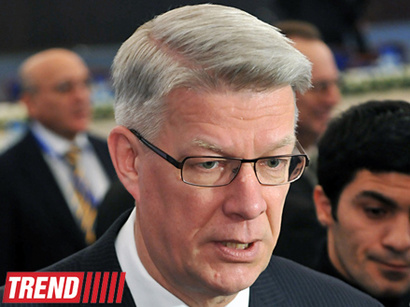 By Aynur Jafarova
The world needs a meaningful dialogue to develop a multicultural society.
This remark was made by former Latvian President Valdis Zatlers at a roundtable on 'Comparative research into multiculturalism: From theory to humanitarian practice', held as part of the fourth Baku International Humanitarian Forum on October 3.

"If we talk about culture, then each of us has definitely different visions of culture in particular sets," he said. "We have conducted studies returning to the definition of the concept of culture."
Zatlers said 85 percent of the respondents called family one of the important elements of multiculturalism. Family is the foundation of a multicultural society.

"Dialogue and peace in the society are also important aspects of improving the multicultural society," he added.
In his remarks, Azerbaijan's state adviser on Multinational, Multicultural and Religious Affairs Kamal Abdulla said multiculturalism has been included in Azerbaijan's state policy.

"Azerbaijan established the state adviser's service on multinational, multicultural and religious affairs on February 28, 2014," he said. "President Aliyev signed a decree on the establishment of Baku International Center of Multiculturalism on May 15, 2014."

Abdulla went on to add that Azerbaijan has created all necessary political and social conditions for developing and strengthening the traditions of multiculturalism.

"Azerbaijan created all necessary conditions for representatives of different nationalities, religions and cultures to exist freely," he said. "Nationwide leader Heydar Aliyev played a special role in strengthening and preserving multiculturalism in modern Azerbaijan, and President Ilham Aliyev sucessfully continues this policy."

Abdulla also said Heydar Aliyev, the political founder of multiculturalism in the country, considered this issue as an integral part of democracy in Azerbaijan.

"Azerbaijan ensured observing the rights and freedoms of representatives of national minorities," he said.

He said that the country's leadership closely cooperates with international organizations, including the UN, OSCE, OIC and the EU to maintain an atmosphere of multiculturalism in Azerbaijan.

"Azerbaijan has a systematic approach to ensure the multicultural security," he said. "Special attention is paid to this issue. This forum is one of the intellectual indices of multicultural security."
Speaking at the event Executive Director of the Baku International Multiculturalism Center, Azad Mammadov said choosing Baku as a venue for establishing an International Multiculturalism Center is natural.

"Azerbaijan is a country with centuries-old traditions of multiculturalism and tolerance," he said. "This is why the establishment of the International Multiculturalism Center in Baku was expected."

He noted multiculturalism is one of the directions of the state policy of Azerbaijan and the country pays special attention to it.
Mammadov also noted the Heydar Aliyev Foundation greatly supports the activity of the Baku International Multiculturalism Center, as the fund implements projects aimed at promoting intercultural dialogue.

"Azerbaijan is open and ready for cooperating in the field of an intercultural dialogue with other countries," he said.

Baku International Humanitarian Forum, initiated in 2010 by President Aliyev and former Russian President Dmitry Medvedev, is a high-profile global scientific and political platform for tackling the challenges facing humanity in the 21st century, holding dialogue, discussions and exchange of views on a wide range of issues of humanitarian cooperation.
Well-known politicians, representatives of the socio-political circles, scholars and figures of culture are attending the two-day forum. Within the framework of the forum, the participants will make tours to Azerbaijan's regions, particularly to Nakhchivan, Lankaran, Guba and Gabala on October 4-5.
Related News