President Aliyev holds bilateral meetings in Astrakhan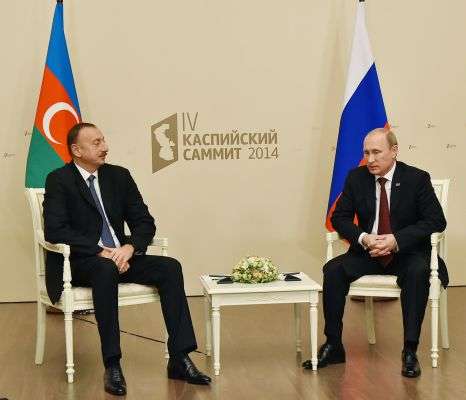 By Nigar Orujova
Azerbaijan's President Ilham Aliyev, who visited Astrakhan to attend the fourth Caspian Summit, held bilateral meetings with presidents of Russia, Kazakhstan and Iran on September 29.
The heads of Caspian Sea littoral states came together at the fourth Caspian summit that focused on cooperation between the countries and progress in implementation of the decisions taken at the previous summit in Baku in 2010.
At the meeting with Russian President Vladimir Putin, President Aliyev said Azerbaijan and Russia have very good dynamics in all the spheres, economic, political, energy, as well as in humanitarian cooperation.
"I think that in the future will also observe the good moments in the interaction of our countries," he added.
Putin, for his part, said the relations between Russia and Azerbaijan are developing actively, despite the problems in the global economy.
"The relations between Russia and Azerbaijan have always unfolded as friendly and trusting and they are unfolding in a similar vein on different lines, including in the most sensitive spheres; moving forward is the case with the economy as well, despite some problems in the global and Russian economy," Putin said.
Azerbaijan's President also met with President of Kazakhstan Nursultan Nazarbayev in Astrakhan.
The parties expressed satisfaction with the level of traditionally friendly relations between Azerbaijan and Kazakhstan and noted that there was good potential for the development of the bilateral ties.
The sides discussed the issues related to the expansion of the cooperation between the two countries in a variety of areas.
President Aliyev also met with Iranian President Hassan Rouhani in Astrakhan.
During the meeting, the sides noted that bilateral relations between Azerbaijan and Iran were developing successfully in a variety of fields.
The parties stressed the importance of high-level meetings in terms of the further strengthening of ties. The presidents exchanged views on the issues related to prospects for cooperation in political, economic, energy, transport and other fields.
During the working visit to Astrakhan, President Aliyev also visited a statue of national leader Heydar Aliyev in the Heydar Aliyev Park, and attended the opening of the "Friendship" kindergarten under secondary school No. 11 after Heydar Aliyev, the construction of which was initiated by the Heydar Aliyev Foundation.
Azerbaijan's President finished the visit to Astrakhan on the same day.