19 September 2014 14:08 (UTC+04:00)
1 273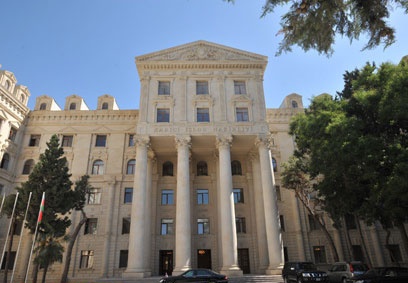 By Sara Rajabova
Azerbaijan has criticized the European Parliament over its resolution on human rights in the country, adopted on September 18.
Azerbaijani Foreign Ministry's Spokesman Elman Abdullayev said in a statement that the resolution is completely unfounded and biased.
He said Azerbaijan fully ensures the rule of law, protection of human rights, freedom of expression and assembly, and independence of the judiciary.
"No one is prosecuted or condemned in Azerbaijan for his or her political beliefs or activities. No one in Azerbaijan has the right to consider himself/ herself above the law just like in any democratic society ensuring the rule of law," he said.
Abdullayev went on to note that the resolution is aimed at exerting political pressure on Baku.
He added that the artificial emergence of such a resolution on the eve of the ceremony of expansion of the Southern Gas Corridor and laying the foundation of TANAP on September 20, should be regarded as an attempt under the guise of "human rights" to harm the development of the EU-Azerbaijan relations, and the project, which will make an indispensable contribution to EU's energy security.
Abdullayev said the resolution, which originates from an anti-Azerbaijani political request and double standards, is an evidence of the existence of powers in the European Parliament, acting against EU's fundamental interests.
He further noted that these circles, representing themselves as heralds of human rights and democracy, are deliberately turning a blind eye on violation of rights of over one million Azerbaijani refugees and IDPs deprived of their basic rights, which shows the real intention of these circles and the fact that they serve to double standards.
More than 20,000 Azerbaijanis were killed as a result of large-scale hostilities and over one million Azerbaijanis are unable to return their home because of the Armenian invasion of the Nagorno-Karabakh and seven adjacent regions of Azerbaijan in early 1990s. Armenia continues the occupation of Azerbaijani territories, which in turn obstacles the regional security and peace.
Earlier, Azerbaijan's ruling party has slammed the European Parliament resolution saying it was prepared by the forces not satisfied with Azerbaijan's role in European energy security, and persons acting under the direct support, custody and influence of the Armenian lobby.
Related News