Nagorno-Karabakh main priority of Azerbaijan's foreign policy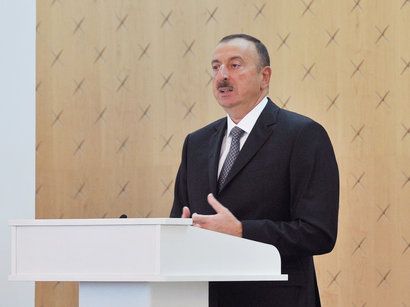 By Sara Rajabova
Azerbaijani diplomats serving in the foreign countries gathered in Baku to discuss further priorities of Azerbaijan`s foreign policy.
The fifth session of Azerbaijan's diplomatic services heads kicked off at the Foreign Ministry of Azerbaijan in Baku on July 7.
President Ilham Aliyev addressed the session and drew the attention to the main priorities of the foreign policy of Azerbaijan.
President Aliyev said successful development of the country and its economic independence have provided the country with some opportunities to have its say and to defend its interests in the international arena.
Noting the positive international image of Azerbaijan, President Aliyev stressed the role of diplomatic bodies in this success.
Nagorno-Karabakh conflict remains priority issue of foreign policy
He emphasized that the main issue in Azerbaijan's foreign policy is the Nagorno-Karabakh conflict.
"Unfortunately, since last meeting, no progress has been achieved on the issue. Certainly, different statements were issued and various efforts were made. The OSCE Minsk Group has repeatedly traveled to the region, but no tangible result has been made so far. The main reason behind the current condition is unconstructive position of Armenia and its attempts to keep the conflict in a frozen state," President Aliyev said.
He said Azerbaijan wants a peaceful solution to the problem, noting that Armenia's destructive position and international laws failure to resolve the issue are leading Azerbaijan to keep the military option on the table.
President Aliyev further said the activities of diplomats should primarily be directed to bring the truth about Karabakh, including the Irevan khanate to the world.
He once again stressed that establishment of a second Armenian state on the territory of Azerbaijan is categorically impossible and Baku would never accept it.
Main priorities of Azerbaijan's foreign policy
Speaking about the main directions of Azerbaijan's foreign policy, President Aliyev said except Armenia, Azerbaijan has good and equal relationship with its neighbors built on solid basis and in bilateral and multilateral formats.
"We certainly do not want a source of danger around us. We together with our neighbors are working in this direction. I believe that it should remain a priority for us in the coming years. At the same time, in recent years, the tripartite formats were identified again on our initiative. I should also note that this format exists today. There are currently trilateral Azerbaijan-Turkey-Georgia, Azerbaijan-Turkey-Iran and more recently Azerbaijan-Turkey-Turkmenistan formats. The meetings are held at the level of ministries of foreign affairs, economy and industry. One meeting has already been held at the presidential level. Certainly, political, economic, and energy issues are discussed there. This is a very successful format of cooperation. I can say that it has had excellent results. Such meetings are in themselves a very positive sign. We have always tried to strengthen our regional cooperation. Every country, including Azerbaijan can fully meet its interests through regional cooperation. Therefore, such initiatives please us by bringing success. Our foreign policy does not stand still. We should constantly search for and think about new forms of cooperation and take the initiative in order to make Azerbaijan's foreign policy even more successful.
Of course, we give preference to bilateral formats. We stand for equal and mutual relations with all countries. We have managed to achieve this goal. Of course, the bilateral format is the most successful format," President Aliyev said.
Cooperation with Muslim countries
Noting the importance of a constant search for new forms of cooperation, he spoke about relations with Muslim countries and stressed that Azerbaijan contributes to the strengthening of Islamic solidarity.
"We play our active role in the Organization of Islamic Cooperation. Numerous events were held in Azerbaijan by this organization. We contribute to the strengthening of Islamic solidarity. Certainly, the support of Muslim countries in the international arena, particularly in the UN, is very important. This support has already become a reality. We have historical ties with Muslim countries. Today these ties have been elevated to a new level. Therefore, relations with Muslim countries should constantly develop in the years ahead. Certainly, different options are on the table. Political relations are naturally at a very high level. I think that we need to strengthen activities in the economic sphere. There are appropriate grounds for such activities. I believe that by investing in Muslim countries, we can improve the situation in the economic sphere," President Aliyev said.
Furthermore, he noted that the European countries are traditional partners of Azerbaijan and there are excellent opportunities for the development of bilateral ties. He also added that in recent years the cooperation with Asian states was rapidly developing.
Touching upon cooperation with international organizations, President Aliyev stressed the importance of joint activities of diaspora organizations with Azerbaijan's embassies abroad.
He also drew attention to the success of energy diplomacy, adding that these opportunities have a positive impact on the foreign policy of Azerbaijan.
President Aliyev noted that Azerbaijan has adopted accurate policies which rely on a conceptual approach.
Azerbaijani President wished diplomats success in their new activities.
The session of the heads of Azerbaijani diplomatic services is held every two years. It focuses on topical issues and priorities of Azerbaijan`s foreign policy.
The session of the heads of Azerbaijani diplomatic service will wrap up on July 10.
Azerbaijan's foreign policy strategy contributed to the country's growing influence in the international arena, recognition of the country as a reliable partner, turning it into an active member of international organizations and initiator of events and projects that are important for the region and the international community.
Currently, 57 embassies, permanent missions to the five international organizations, nine general consulates, seven representative offices and seven honorary consulates of Azerbaijan are functioning in foreign countries. Besides, the embassies of 58 states, four general consulates, ten honorary consulates and representative offices of 20 international organizations are represented in the country.