IDPs' condition shows improvement in the past 10 years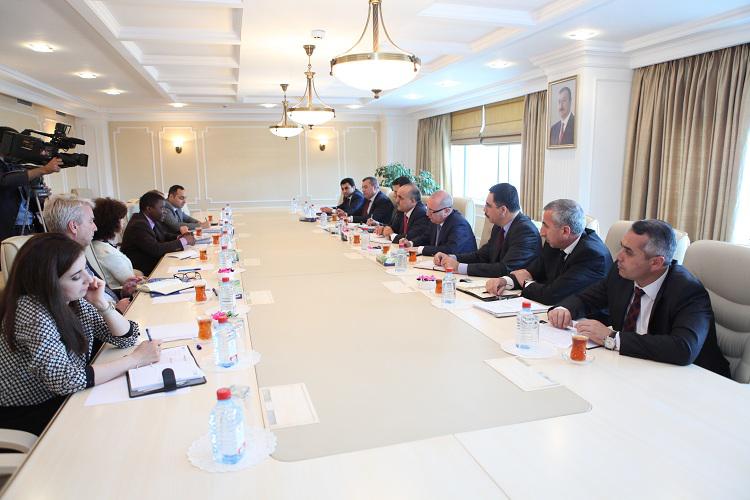 By Sara Rajabova
Employment offices in Azerbaijan have provided about 86.8 thousands of refugees and internally displaced persons (IDPs) with work in the past ten years.
The news was announced by Azerbaijani Labour and Social Security Minister Salim Muslumov at a meeting with visiting UN Special Rapporteur on the human rights of IDPs Chaloka Beyani on May 21.
Muslumov noted that 3,406 refugees and IDPs were sent on professional training courses, 2,454 were involved in paid public works, and 4,691 were provided with unemployment benefits.
"Some 12,229 families of refugees and IDPs (about 50,000 people) have received targeted assistance since May 1. In addition to that, 35,702 people have received social benefits, 3,698 people pension, and 1,476 people lump sum benefits," Muslumov said.
He said the poverty rate among IDPs in Azerbaijan dropped to 15 percent as a result of the ongoing comprehensive measures.
Muslumov also noted that in the past 10 years, Azerbaijan's GDP increased by 3.4 times, budgetary incomes by 16 times, the income of the population by 6.5 times, and salary by 5.5 times.
"During this period, 1.2 million jobs were created, the poverty rate fell from 49 to 5.3 percent, and unemployment decreased to five percent," he said.
Beyani, in turn, expressed his satisfaction with the activities carried out in Azerbaijan where the rights of refugees and IDPs were concerned.
"State support for these people in all areas and improving their material security is a good example," Beyani said.
The purpose of Beyani's visit to Azerbaijan, which started on May 18, is to examine the overall situation of the IDPs in the country.
Beyani will present his preliminary observations at a press conference in Baku on May 23.