Azerbaijan to produce new military equipment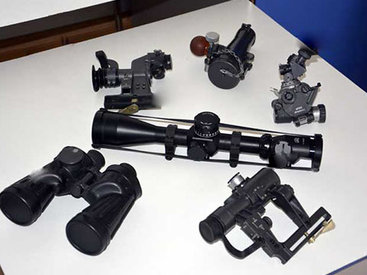 By Sara Rajabova
Azerbaijan plans to start manufacturing three kinds of optical systems, including thermal sights, in 2014, the Optical-Mechanical Manufacturing Association of Azerbaijan's Defense Industry Ministry told local media.
The association announced that a production unit has already been established in this regard, but the necessary systems have not been set up yet.
Thermal sights will be produced based on the license issued by ASELSAN and will be the Azerbaijani analogue of BOA thermal weapon sight.
The unit also plans to produce optical night vision devices with 3.5-4.5 magnifications, as well as various optical surveillance systems needed by Armed Forces.
Azerbaijani-made STON optical sights are deployed on local 14.5 mm caliber Istiglal sniper rifles and 12.7 mm caliber Mubariz sniper rifles.
Currently Alov plant is producing 12 types of optical devices, including small arms, grenade throwers, mine throwers, collimators, night vision systems, binoculars,0 and optical sights for cannon.
The country's defense industry ministry has started the mass production of a variety of munitions in recent years.
Defense Industry Minister Yavar Jamalov said earlier five production sites were put into operation in 2013 in ceremonies attended by the Azerbaijani President.
Azerbaijan is strengthening its military power and defense capabilities on a yearly basis. The establishment of the Ministry of Defense Industry has been instrumental in strengthening the defense potential of the country.
The defense products output in Azerbaijan surged by more than eight-fold during 2005-2013.
The Defense Ministry has created a new post-patrol Gurza machine, equipped with two 7.62 mm caliber weapons, one 12.7 mm caliber machine gun, a new 7.62 x 51mm caliber sniper rifle that meets NATO standards, and a machine gun designed for use in special military operations.
Furthermore, a new reconnaissance vehicle has been produced. This machine is equipped with a 23 mm caliber canon, a 7.62 mm caliber twin machine gun mount, an AQ-17 grenade launcher, and other military equipment.
Machine guns, mortar launchers, Zafar-K pistols, AK-74M submachine guns, battle and signal bullets, hand grenades, anti-tank and anti-personnel mines, firearms, and spare parts for armored vehicles are among the goods produced and delivered to the customers.