New fish species found in Azerbaijan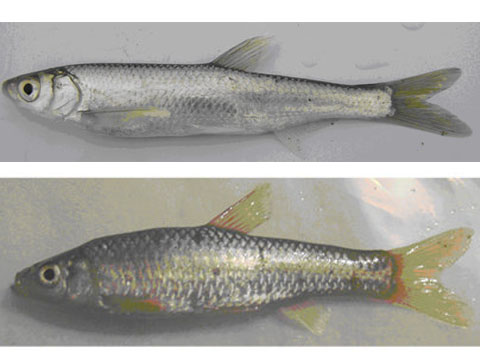 By Nigar Orujova
Azerbaijan's fresh water basins and the Caspian Sea, which account for 110 fish species and subspecies, have been enriched with two new fish species.
Two new fish species have been discovered in Azerbaijan, senior researcher of Institute of Zoology of Azerbaijan National Academy of Sciences (ANAS), Namig Mustafayev, said on January 10.
Stone moroko (Pseudorasbora parva) and Korean sharpbelly (Hemiculter leucisculus) have been discovered in Azerbaijan's fauna.
Evidently, these fishes were by accident introduced to Azerbaijan's fauna in the 1970s during the introduction of herbivorous fishes.
Stone morocco is widespread in almost all inland waters of Azerbaijan and in Azerbaijani part of the Caspian Sea. The five-year old specimen with a length of 94 mm and weight of 10 grams has been seen in Azerbaijani waters.
Korean sharpbelly is common in the rivers of Lankaran region, Mingachevir water reservoir, the lower parts of Kura and Araz rivers, in the Azerbaijani sector of the Caspian Sea from Absheron peninsula to Astara region. The oldest specimen is five years old, and has a length of 150 mm and weighs 25.4 grams.
Most of fish are anadromous or semi-anadromous, the young grow up in salt water and migrate to fresh water to breed after they reach maturity. The most valuable of anadromous fish are salmon, sturgeon, stellate sturgeon and beluga.
Beside, the water basins of Azerbaijan contain such valuable fish species as bream, carps, rutilus, kutum and others.
Construction of a number of hydro technical plants on the Kura River as well as the Caspian water pollution led to the significant reduction in the number of valuable fish species.
Azerbaijan's fish-farming establishments and hatcheries were launched to restore the fish reserves and to increase the number of fish in species, accounting for breeding thousands of sturgeons, salmons, breams, carps, etc.
The Zoology Institute proposed to create an experimental farm for the cultivation of sturgeon fish at the country's Mingachevir laboratory in November 2013.
Sturgeon may be artificially bred in the Caspian Sea and the Kura River as part of this project. Scientists plan to produce 15-20 tons of sturgeon fish annually.