15 October 2013 10:30 (UTC+04:00)
696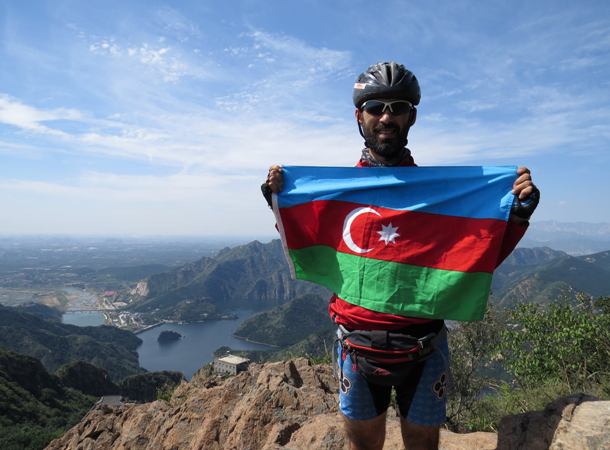 By Nigar Orujova
First Azerbaijani cycle traveler Ramil Ziyadov, who has covered over 15,000 kilometers in six months, plans to continue his journey.
The 35-year-old extreme sport lover, who is an Azerbaijani farmer from the Barda region, had been dreaming of cycling around the world since his five-year age, finally prepared himself and at his own expense started his adventure full of surprises under the motto "I am proud to be Azerbaijani" in April 2013.
Ramil cycled through five countries -- Russia, Kazakhstan, Kyrgyzstan, Uzbekistan, and China -- and came back home on October 2. He wished to continue traveling eastward, but unfortunately could not get a Japan visa, was already out of money, and thus had to finish his journey.
Now he is expected to start a new two-year-long trip to see Europe and Africa on January 21. For this purpose, he plans to start training in the near future and experience the cold in Azerbaijani northern regions in order to be ready for the harsh Russian winter.
"I am an extreme travel lover. There was no such project in Azerbaijan, so, I decided to do it myself," Ramil told AZERNEWS.
During the 15,102 km trip Ramil faced a lot of difficulties, both physical and psychological ones.
"My bike was broken down at the Kazakhstan-Uzbekistan border with nobody around, and I had to drag the bike and equipment for about 10 km. I was caught by rain in Siberia, saw wolves in Kazakhstan. In general, Kazakhstan was hard with a lot of extremity as settlements are located far apart.
"Baykal was also a difficult part of the trip. In Irkutsk, Baikal, I had to climb 900-2,500 meters above sea level. As a whole, I cycled over 3,000 km of mountain relief in Russia," he said.
Weather changes, climbing and equipment weighing some 60 kg made the travel more challenging.
However, the fortune was on the traveler's side too, and in Uzbekistan he spent 18 days inside thanks to the local people.
Ramil also thanks a lot embassies and diaspora in the countries that helped him a lot. His trip was not only a challenge, Ramil also had set out a goal to present to foreigners Azerbaijan, its achievements, development and its acute problem, which is the Nagorno-Karabakh conflict with Armenia.
"It was both about travel and promotion of my country. I came to the embassies, took brochures in the English language and gave them to foreign tourists, talked about the development of Azerbaijan, the Nagorno-Karabakh problem, Khojaly massacre. Propaganda was my initial goal, I had given a lot of interviews to Russian and Kazakh TV channels," Ramil said.
The cyclist started the project with his own money, dedicating it to Azerbaijani national leader Heydar Aliyev. Ramil now is looking for sponsors, but he said he will continue his project even without sponsors.
"I want to see the Russian winter, feel the extremity. I want to move to Europe, go back to Asia and travel across Africa. This project will take two years. I'm already planning to train at Shakhdag and Khinalig, to be prepared physically to feel the cold winter and snow, because no less than 30 degrees below zero is expected in Russia," he said.
Except promotion of his country, this project may give another impetus to the development of cycling in Azerbaijan, where cycling schools and clubs are expected to be established in the near future.
Related News