Clerical body issues fatwa over Qurban Holiday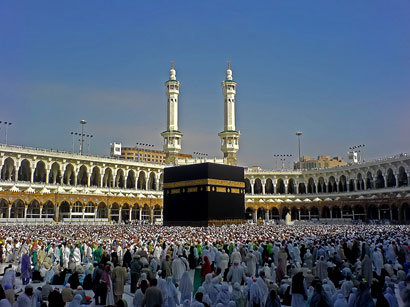 By Sabina Idayatova

The Caucasus Muslims Office (CMO) issued a fatwa in connection with Eid al-Adha (Qurban Holiday) on October 7.
According to the CMO, Eid al-Adha holiday falls on October 15-16 this year. Since representatives of both branches of Islam exist in Azerbaijan, these two days are officially declared as days off in the country to ensure their democratic rights.
The eve of Eid al-Adha holiday is celebrated on Oct. 15. Eid al-Adha will be celebrated on Oct. 16.
In this regard, the CMO and its administration congratulated the Azerbaijani people and all Muslims on this holiday and asked God for mercy.
Eid al-Adha is one of the oldest holidays, which is celebrated in all Muslim countries.
According to the Sharia laws, the sacrifice is especially important for Hajj to holy Mecca.
The religious ritual of sacrificing existed long before Islam. New goals and causes of the ritual emerged in the Islamic world after the second year of the Hijrah (the year when Prophet Muhammad moved from Mecca to Medina).
The religious rite appeared after the case with Prophet Ibrahim, who dreamed that Allah ordered him to sacrifice his son Ismail to test his faith.
As a true believer, Ibrahim was ready to follow the orders of Allah. Ismail himself was ready to become a victim. However, according to the holy Quran, Allah sent a sheep and it was sacrificed instead.
The main goal of Qurban Holiday is to become a true believer. The Quran says, "Allah needs neither meat nor blood of the animal, only your faith".
During the holiday wealthy families sacrifice a sheep or another animal, such as lambs, camels, buffaloes, bulls, cows, sheep and goats, etc., and distribute meat among the poor and needy. It symbolizes the compassion towards the poor and also calls on people to help each other.
The animal offered as a sacrifice must be healthy. Sick or defective animals are not suitable for sacrifice. Moreover, one cow can be sacrificed by seven people or seven families.
Thus, the religious rite of sacrificing strengthened such symbols in Islam as a high spiritual state, religion, patronage and help to others.
Meanwhile, the list of locations in Baku where animals for sacrifice will be sold has been announced.
The Azerbaijani Ministry of Economic Development, the Ministry of Agriculture, Executive Power of Baku and other relevant government agencies jointly with entrepreneurs engaged in animal husbandry have organized sale of sacrificial animals at relatively low prices in the markets of the capital city and its suburbs.
The measures are being taken to prevent an artificially high prices of meat. The entrepreneurs will not be charged for renting space, which will allow to offer the goods at a below-market price.