Azerbaijani embassy holds event marking anniversary of Khojaly tragedy in Switzerland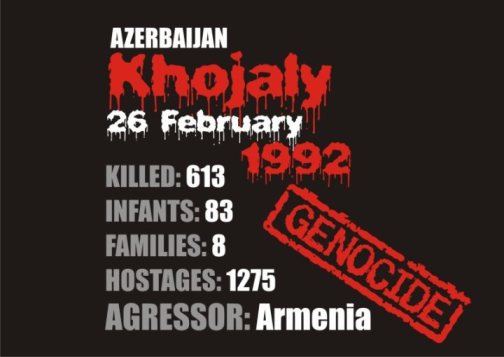 Azerbaijan`s Embassy to Switzerland jointly with "Friend of Azerbaijan" Union held an event marking the 21st anniversary of the Khojaly tragedy.
The event started with a one-minute-silence in memory of the Khojaly victims.
The event also featured a demonstration of the Khoja, a movie by Azerbaijani filmmaker Vahid Mustafayev.
Khoja is a tragedy and greatness of two loving hearts. It tells about the heroism of ordinary people. The main characters Yura and Mehriban were initially indifferent towards each other. But when the time comes to protect their land with weapon in their hands against the Armenian occupants, true feelings erupt in their hearts.
On Feb. 25-26 February, 1992, Armenian occupation forces together with the 366th infantry regiment of Soviet troops stationed in Khankendi (previously Stepanakert) committed an act of genocide towards the population of the Azerbaijani Khojaly town.
Some 613 people were killed including 63 children, 106 women and 70 old men. A total of 1000 civilians were disabled during the genocide. Eight families were killed, 130 children lost one parent and 25 lost both. Additionally, 1275 innocent residents were taken hostage, while the fate of 150 remains unknown.
The conflict between the two South Caucasus countries began in 1988 when Armenia made territorial claims against Azerbaijan. Armenian armed forces have occupied 20 per cent of Azerbaijan since 1992, including the Nagorno-Karabakh region and seven surrounding districts.