Top foreign diplomats meet opposition reps behind closed doors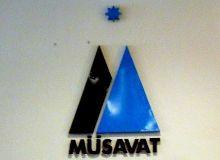 A closed-door meeting of foreign diplomats and the governing body of the Public Chamber, an Azerbaijani umbrella opposition group, was held at the Musavat party's office on Tuesday.
The meeting was joined by about 20 diplomats, including head of the Council of Europe office and the German ambassador in Baku, as well as representatives of the United States, Britain, Italy, Norway and other countries. Discussions focused on the social and political situation in Azerbaijan, Musavat deputy chairman Gulagha Aslanli said.
"This is, actually, a continuation of regular meetings," Aslanli said. "Since last year's rallies, two such meetings have taken place, and a decision was made to continue them. An agreement was even reached with representatives of diplomatic corps to meet every two months. This year, it is the first such meeting, and again, discussions are mainly about the situation in the country, democracy, what steps should be taken to release political prisoners, and similar issues."
Last year, a meeting of diplomats with opposition representatives drew fire from some MPs representing the Yeni (New) Azerbaijan Party (YAP), who criticized its closed-door conduct.