3 September 2010 08:55 (UTC+04:00)
1 833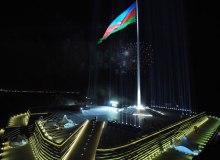 BAKU – Azerbaijan hoisted a massive national flag on Wednesday that it says is the world's largest, at 70 meters by 35 meters long and weighing a staggering 350 kilograms.
President Ilham Aliyev, presiding over the unveiling of the $32 million National Flag Square in Baku, said he could foresee the day when the country's blue, red and green flag would waive over the entire Azerbaijani territory, including the region of Nagorno Karabakh presently occupied by Armenia.
"Our flag is our pride and our soul," Aliyev told the crowd. "It will waive over Karabakh, Khankandi, and Shusha. And we all should work hard to bring this day closer and we are doing it."
President Aliyev went on to say that Azerbaijan has turned into a reliable partner for the world community. He said new projects will be implemented in the future, noting that his country does not depend on any international assistance and has ensured its security.
Aliyev said Azerbaijan will turn into a donor country in several years and is already working to accomplish that goal.
The president said the South Caucasus republic plays an active, and in some cases, a crucial role in regional developments.
President Aliyev signed decrees on creating the National Flag Square in Baku in November 2007 and on scheduling the National Flag Day in November 2009.
From now onward, November 9 will be marked across Azerbaijan as the National Flag Day every year.
The project on creating the huge flag was developed by US Trident Support company and executed by Azerbaijan's Azenko company.
The pole where the flag waves is 162 meters high. The entire structure weighs a total of 220 tons.
The Guinness World Records organization confirmed on May 29 that the pole where the Azerbaijani national flag is hoisted is the tallest one in the world.
The coat of arms of the Azerbaijan Republic, the text of the state anthem and the country's map set up at the Square are made of gilded bronze. Also, the State Flag Museum has been set up there.
Category News