French drama of Armenian love: Laurent's being aghast at Azerbaijan flag in Karabakh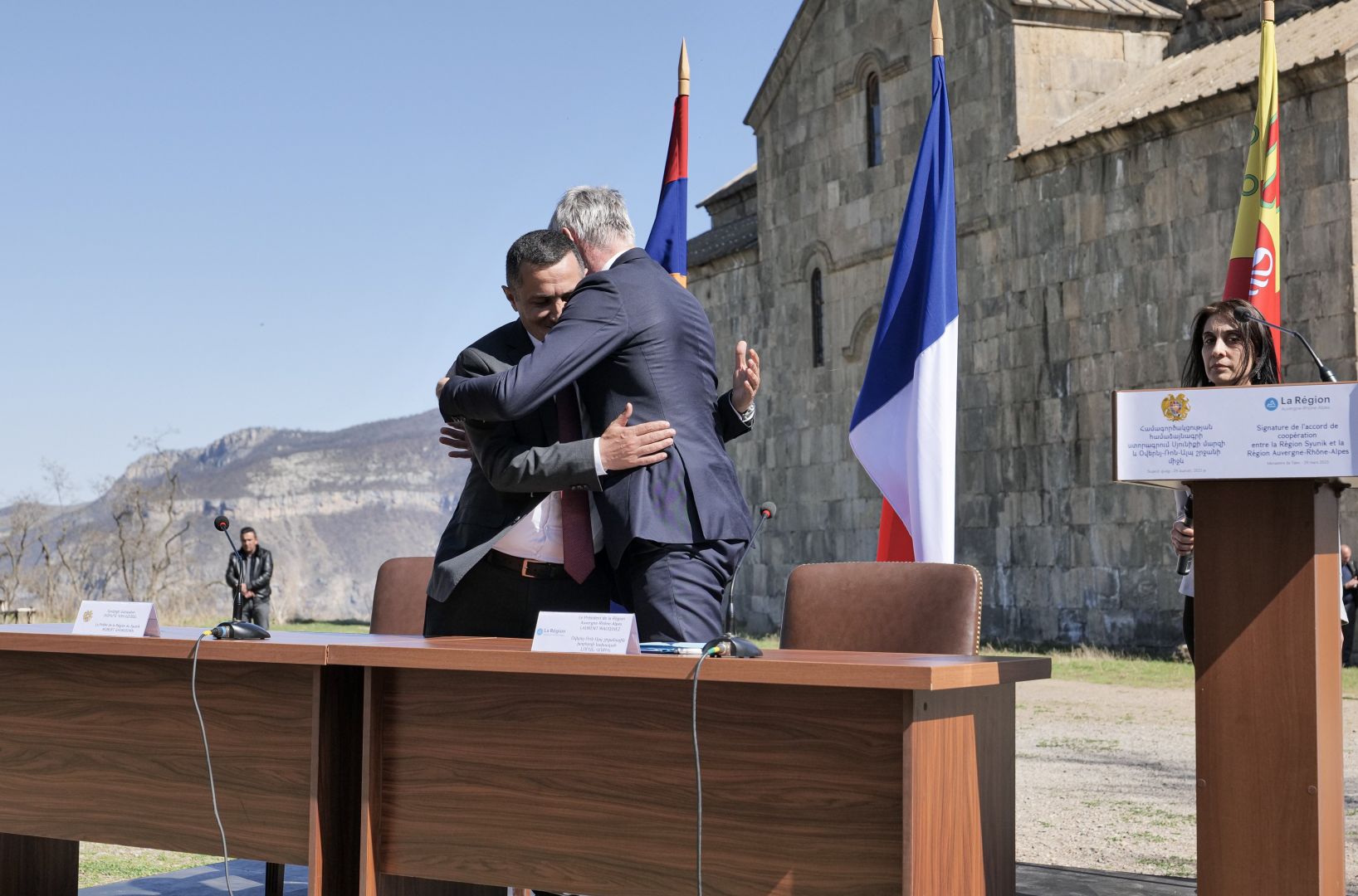 By Yusif Abbaszade
France's Armeniancy holds this country very firmly in its hands; Islamophobia and Turkophobia, traditional for Paris, add special strength to the barrier erected by the Armenians, which is very difficult, if not impossible, to break through. Common sense, references to international law and logic do not work here.
President of the Regional Council of Auvergne-Rhône-Alpes of France Laurent Wauquiez, declares that Azerbaijan has occupied the territory of Armenia.
He stated this at a joint press conference with the so-called "Foreign Minister of Nagorno-Karabakh" Sergey Ghazaryan amid his recent visit to Yerevan on March 31.
Recall that on the abovementioned date, the delegation led by Laurent Wauquiez had illegally paid a visit to the conventional border between Armenia and Azerbaijan in the direction of Azerbaijan's Lachin road within his trip, where the pro-Armenian Wauquiez, on the basis of the thesis presented to him by Yerevan, had appeased his Armenian brothers with biased and baseless statements:
"I have been friends with Armenians in Armenia and 'Nagorno-Karabakh' for many years. I was deeply shocked by what happened. In my region, a political position was established to defend the right to independence of the 'N-Karabakh'. As a result, pan-Turkish organizations tried to put pressure on me and my family. The attention of the international community is focused on Ukraine and there is a danger of forgetting the 'Armenian Nagorno-Karabakh problem'. I came here to say that we do not forget you, you are not alone, and there should be no violations of rights in Armenia, 'N-Karabakh' and the Lachin corridor."
It should be noted that Laurent Wauquiez is also an illusionist. He easily invents a number of his own, or sketches a country map at a quick hand. He mentioned the rights of people indicating some 120,000 people - according to Laurent, supposedly the Armenian community living in Karabakh. Speaking vehemently and with great excitement about the violation of the rights of Armenians in Karabakh, the French politician did not hide that he was shocked to see the Azerbaijani flag on several heights recently taken under the control of our army.
There is yet a lot could be talked about Laurent... a French politician with his strong Armenian fetish who always takes care of Karabakh Armenians, once became a star after posting on his social network account expressing his support for Armenia. After all, he is also a mapmaker. In a bizarre post of him, a map showing territorial claims to Azerbaijan, Georgia, Turkiye, Iran and Iraq was depicted.
Certainly, Laurent's unfathomable sketch had caused many discussions and serious objections. It faced very strong criticism of Georgians, Turks and Azerbaijanis and Laurent Wauquiez was demanded to remove his post.
Despite the jingoism and Armenophilism, Wauquiez and all the so-called fighters for justice are working for their pockets, not for the welfare of Karabakh Armenians. And at the top this network is the gamer Macron, who constantly inspires Armenians. The question is asked: why not protect...? Does Macron not know that all the ballots in his election box were filled with the signatures of his partners from the Armenian lobby? If not, how would Macron stand at the head of France and earn the hatred, spit and slap of millions in his country? If it were not for the support of the Armenian lobby, Macron would be in a worse situation today than Armenia, who beg their patrons for salvation. While the chaos and lawlessness reigning in the country, ignoring major problems in his own country and getting involved in active propaganda and support of another country is the sign of Macron's policy.
Indeed, the people of France have fallen asleep in the dream of democracy. The government of Macron, which imprisons those it does not like for their anti-government social media posts, sometimes beats it with the hands of the police, and despises community of the Islamic religion, is supposedly trying to establish democracy in the South Caucasus. However, Macron does not understand one thing, that democracy is necessary for the masses shackled under his rule and the islands and countries he has turned into colonies.
---
Follow us on Twitter @AzerNewsAz