Precious metals found in country's mud volcanoes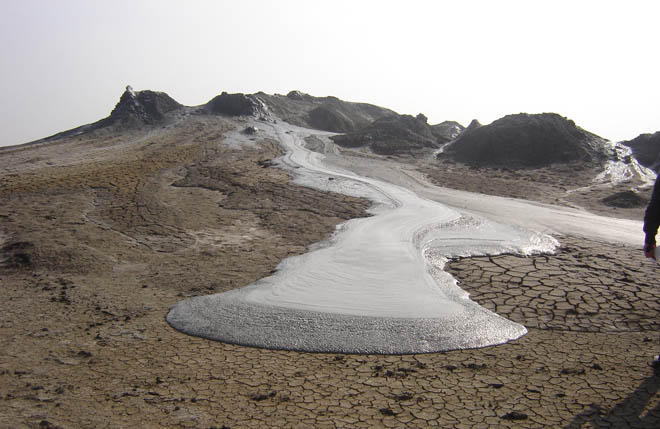 By Kamila Aliyeva
Naturally formed gold, silver, iron, copper, titanium and new minerals have been discovered in Azerbaijan's mud volcanoes for the first time.
The work on studying the mud volcanoes of Azerbaijan jointly with Ukrainian specialists is underway for the last two years, Head of Mud Volcanism Department at the Institute of Geology and Geophysics of the Azerbaijani National Academy of Sciences (ANAS) Adil Aliyev told Trend.
He noted that as a result of the research carried out very successful results were achieved.
Aliyev added that 20 volcanoes in various tectonic zones of the country - Absheron peninsula, Shamakhi-Gobustan region on the Caspian coast, southwestern Shirvan - were selected for research.
"In each of the volcanoes, naturally-formed components containing various amounts of gold, silver, etc. were found," he said.
The content of precious metals in mud volcanoes varies between 20-60 microns, according to Aliyev.
"The research is of interest only from the scientific point of view. To this day, such studies have not been conducted not only in Azerbaijan, but throughout the world," he added.
Over a thousand mud volcanoes are known to exist in the world, and some 400 are located in the coastal area of Azerbaijan and the Caspian Sea.
The world's largest mud volcanoes - Boyuk Khanizadagh and Turaghai - are both in Azerbaijan. Boyuk Khanizadagh, the diameter and height of which are 10 kilometers and 700 meters respectively, erupted on October 10, 2001, shooting out flames 300 meters in the air. It was the highest record for flames shot from a mud volcano.
Mud volcanoes are a fairly widespread geological phenomenon. The dissemination of mud volcanoes usually indicates the existence of large oil and gas basins, so the large number of mud volcanoes in Azerbaijan reaffirms its richness and attracts the attention of scientists from all over the world.
Azerbaijan's rich fields of oil and gas condensate such as Lokbatan, Garadagh, Oil Rocks, and Mishovdag were discovered near mud volcanoes.
The lava, mud, and liquid spewed by mud volcanoes are used as raw materials for chemical and construction industries, as well as pharmacology.
---
Kamila Aliyeva is AzerNews' staff journalist, follow her on Twitter: @Kami_Aliyeva
Follow us on Twitter @AzerNewsAz