Int'l community comes together in Baku for peace, sustainable development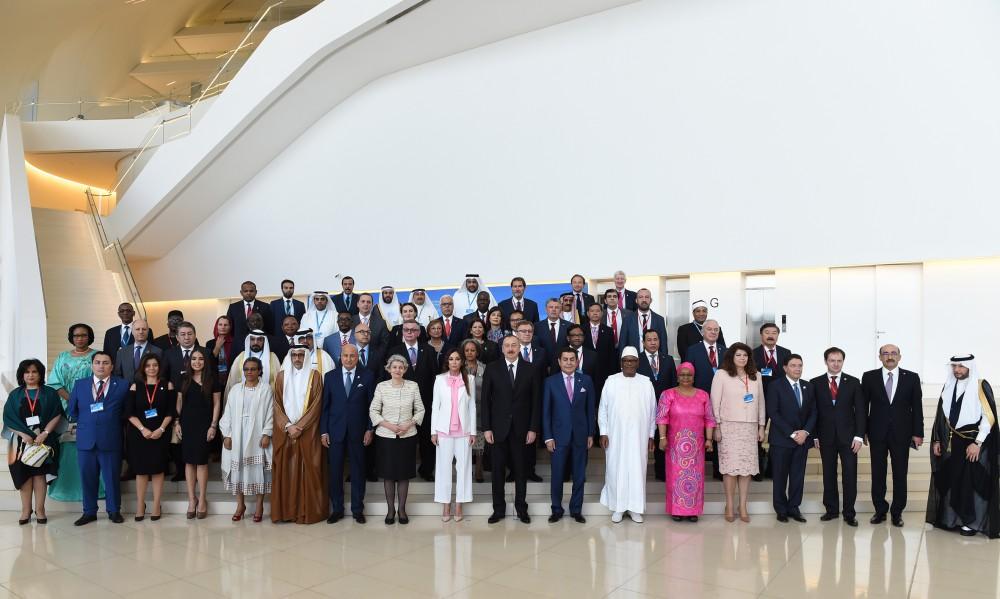 By Gunay Camal
Baku, which has already become a renowned venue for intercultural dialogue in the world, once again made its appeal to the world, calling on to join efforts to make the world safer and more prosperous.
The World Forum on Intercultural Dialogue in Baku in official partnership with UNESCO, ISESCO, UN Alliance of Civilizations, the UN WTO, the Council of Europe, FAO and the North-South Center of the Council of Europe provided a unique platform to share experiences and vision for the promotion and building of peace, ensuring human security, peace and sustainable development.
Already the fourth edition of the international forum was not only a panel of experts, but a real platform of dialogue, where more than 800 participants, including heads of governments, ministers, senior policy makers, cultural professionals, and goodwill ambassadors engaged in active discussions.
The three-day forum discussed several approaches as effective methods to promote and build peace: the role of education for peace, engagement of youth for peace, necessity of multiculturalism for preserving human values and culture and sport as tools for peace. The discussions emphasized the need for action, and the fact that peace is not just an issue for policy makers, but a process where every one should play an active role.
Azerbaijan, a place where civilizations and cultures met for centuries, has been demonstrating that intercultural dialogue is one of the most important issues in the history and without that the world would be much more in danger.
Azerbaijan became an initiator and host of such a large scale forum and platform for dialogue, not accidentally. The country, for centuries is a home to multiple nations who lived in peace and harmony and successfully cooperated. For centuries, people who inhabited Azerbaijan, have always lived in a diverse environment. Multiculturalism, ethnic and religious diversity is Azerbaijan's history and wealth, and is today's reality. Regardless of the time of history, regardless of the political system, Azerbaijanis were active defenders and promoters of multiculturalism inside Azerbaijan and beyond it. Thus, Azerbaijan emerged as a savior of geographical, ethnic and cultural integration and took a principle stand on bringing nations closer to each other.
Addressing the opening of the Forum, President Ilham Aliyev said that "our history, our traditions, our geography actually dictated that Azerbaijan could be and should be an area where civilizations meet."
"Actually the decision to organize, for the first time in 2011, a forum, which will address intercultural dialogue, was motivated by our history, by our reality and also by our wish to create a broad format to address these issues. Today we need to do it maybe more than ever before because unfortunately now some concerning tendencies in the world lead sometimes not to cultural, intercultural dialogue, but to alienation. We see it regularly that in different parts of the world the conflicts, confrontations, civil wars are generated by lack of understanding between representatives of different religions, different ethnic groups," the president said.
President Aliyev pointed out that multiculturalism is not only a trend, it is the only way how to make the world safer. "I think that if we unite our efforts – and today the representatives of the absolute majority of the international community are here – we can demonstrate and prove that multiculturalism is alive and there is no alternative to that. Alternative is xenophobia, alternative is Islamophobia, anti-Semitism, racism, discrimination," he said.
The example of Azerbaijan can serve to strengthen the dialogue between peoples and religions. This is vitally important today, because today the situation in the world really requires major changes. It is necessary to break up ugly stereotypes and destructive myths. After all, it is known that ignorance and misunderstanding give rise to fear in people and, as a result, hostility and aggression. The only way to achieve mutual understanding between representatives of different cultures is a mutual dialogue, during which rootless fears, bias and hostility will disappear.
Emphasizing the importance of these principles, President Ilham Aliyev warned that if there is no intercultural dialogue, the world will face a threat.
Pointing to the fact that it is the Muslim countries that suffer most of all from terrorism, the president said that "we need unity in the Muslim world in order to make our region safer. And, at the same time, we need active communication between the Organization of Islamic Cooperation, the Council of Europe, and other international organizations to reduce tensions.
Therefore, when we are talking about intercultural dialogue, we clearly understand that the impact of success of this dialogue can be seen in every area – in political life, in the areas related to security, in economic cooperation because without predictable partnership and the relations based on mutual respect today it will be very difficult to achieve the goals every country puts in front of itself."
President Aliyev, of course, also spoke about the most acute and painful problem of Azerbaijan - the Karabakh conflict.
"The biggest problem we are facing is Armenian occupation. Unfortunately, our restoration of independence was accompanied by Armenian aggression, which resulted in occupation of 20 percent of our internationally recognized territory – Nagorno-Karabakh and seven other districts – which are occupied by Armenia. As a result of this occupation more than one million Azerbaijanis became refugees and internally displaced persons. Our people were a subject of ethnic cleansing. And today on the occupied territories all our historical monuments, buildings are demolished by Armenia. Our mosques are destroyed," he said.
The president stressed that today all historical monuments and structures in the occupied territories are destroyed by Armenia, mosques are wiped off the face of the earth, to which there is a mass of documentary evidence. Meanwhile, in the center of Baku there is an Armenian church, which has been renovated. That says a lot.
President Aliyev reminded that the UNSC resolutions on Karabakh have not been implemented. "Armenia ignores them and violates brutally the international law and decisions of the Security Council and there is no mechanism to force the aggressor to comply with the resolutions. And this is a very important issue, which is of big concern to our people that sometimes decisions of the Security Council of the United Nations are implemented within days, if not hours, but in our case it's more than 20 years," he said, adding that this is demonstration of double standards, first of all, and this is also demonstration, to a certain degree, of inefficiency of mechanisms of implementation of resolutions.
President stressed that illiteracy, poverty, social inequality and injustice these are the main sources of radicalism, further elaborating that "to eradicate radicalism, we need to address these fundamental reasons. At the same time, we need to promote the values of interculturalism so that people clearly see the benefits of peaceful coexistence of living side by side."
"Here we also come to a very important issue of responsibility. Responsibility of politicians, who sometimes in order to gain more votes from radicals are changing their program to be more nationalistic. Responsibility of non-governmental organizations. Some of them deliberately provoke tensions based on religious and ethnic roots. And responsibility of media because what we mainly see in international media is migrant crisis, wars, devastation, clashes, religious and ethnic conflicts," the president said, noting the necessity to demonstrate a lot of positive examples.
"The world needs peace, but it can't be achieved if hatred, injustice, phobias and wars persist, said Director General of the Islamic Educational, Scientific and Cultural Organization (ISESCO) Abdulaziz Othman Altwaijri addressing the opening ceremony of the 4th World Forum on Intercultural Dialogue in Baku May 5."
He said the only reason for such phenomena is that superpowers don't do their job properly. They are fighting for their own interests and prevent the UN Security Council from carrying out its work, thereby hampering peace and security, noted the ISESCO director general.
Azerbaijan is a model of democracy, peace, development and intercultural dialogue, he stressed.
Azerbaijan is committed to the UNESCO principles, Director-General of UNESCO Irina Bokova said at a meeting of the National Commission for UNESCO.
"Azerbaijan promotes the goals and objectives of UNESCO at the national and international levels," she said. "Azerbaijan is making efforts to realize the goals of sustainable development."
What is very important is that Azerbaijan's influence and efforts to develop interethnic and interreligious relations are not at all focused in one region. Azerbaijan has implemented and continues to carry out numerous humanitarian and charitable projects in various corners of the world, undoubtedly having a direct relationship to this sphere.
This was underscored by First Vice President Mehriban Aliyeva at the first high-level meeting of international organizations held in the framework of the World Forum in Baku.
"Throughout its history, Azerbaijan has sheltered various communities and nationalities of diverse backgrounds and religions, living in conditions of mutual co-operation and friendship. Known as the Gate to the Orient, and located at the crossroads of different cultures and civilizations, East and West, North and South, and being a member of both Islamic and European organizations, Azerbaijan unites the values of multiple civilizations," she noted.
Mrs. Aliyeva stressed that all cultures and civilizations should contribute to the sustainable development of mankind. "Millions of people around the world still continue to suffer from poverty, hunger, social inequality, health threats, and others face natural or man-made disasters, violent extremism, terrorism and related humanitarian crises.
We can practically say that in some cases the international law is not respected or its norms are violated by double standards. Actually, issues related to human lives, and the right of everyone to a safe life should be upheld as the most cherished principles. In this regard, intercultural and interreligious dialogue and co-operation, coupled with principles of understanding and respect, stand in the core of development of societies," she said.
Azerbaijan's first vice-president noted that to realize our goals mankind needs to overcome the barriers of extremism and xenophobia by interacting with each other and building stronger ties across nations.
"Even if engaging in dialogue does not guarantee immediate agreement, simple understanding of others serves as a reasonable beginning in an attempt to bridge the gap between ideas and perceptions. It is certainly better than conflict," she said.
The three-day dialogue was aimed at cooperation among peoples in addressing some of the world's most vexing issues including the global growth of violent extremism, the mounting migration and displacement crisis, deepening economic inequality, and the rise of divisive political populism. Assimilation, multiculturalism and presently interculturalism have all been proposed as possible policy conduits for managing socio-cultural diversity.
"It is very encouraging that people from all around the world have come together to discuss ways to advance the intercultural dialogue, Vice-President of the Heydar Aliyev Foundation, FAO Goodwill Ambassador Leyla Aliyeva said.

"We all know that intercultural dialogue is an important counterforce against the global surge of racism and violence. However, its scope goes far beyond the promotion of ideas of tolerance and co-existence. Intercultural encounters also give birth to innovative ways to reach our common goals," Leyla Aliyeva said.
She noted that the adoption of the 2030 Agenda for Sustainable Development was a milestone event for the global community in its mission to ensure the well-being of both people and the planet.
She further said that it is heartbreaking and unnatural that, in the 21st century, 870 million people in the world still suffer from hunger and malnutrition – all at a time when more than a third of food is thrown away globally.
"Sharing of food is in itself a form of cultural dialogue," she said. "The culture of cuisine provides people with the opportunity to come closer together, overcome prejudices, and better understand various lifestyles," Aliyeva said.
"When dealing with such universal issues as food security, environmental protection and sustainable development, no country or organization can do it alone. Dialogue is crucial in translating the global development agenda into action," Aliyeva said further calling for everyone to do their part to ensure "our common sustainable future".
--
Follow us on Twitter @AzerNewsAz