U.S.-co-funded medical facility opens in Beylagan [PHOTO]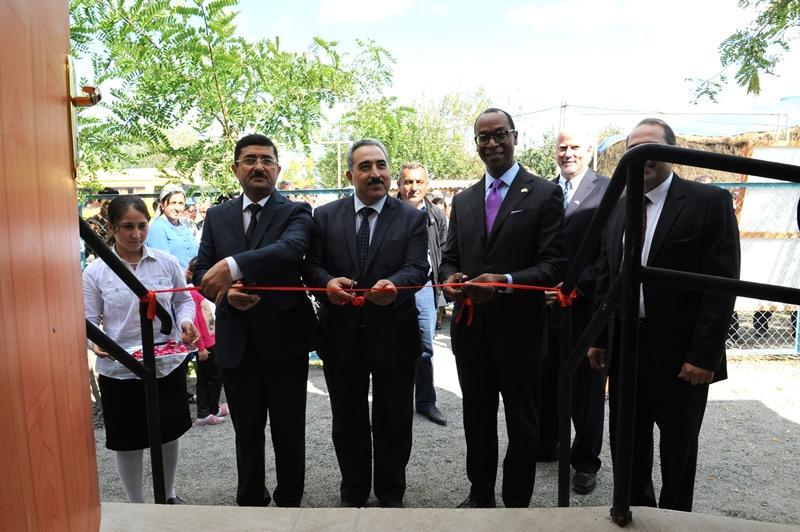 By Trend
Residents of the Baharabad village of Beylagan district celebrated the completion of the construction of a new medical facility that will improve access to healthcare for 1,450 people.
The opening ceremony was attended by Mr. William Gill, deputy chief of mission at the U.S. Embassy in Baku; along with representatives of the Ministry of Economy, the Ministry of Health, the local Executive Committee, municipal government, and the United States Agency for International Development (USAID). USAID and the Government of Azerbaijan co-financed the construction, which was conducted by the East-West Management Institute (EWMI).
"The United States is committed to partnering with Azerbaijan. By working together, we can achieve stability, democratic progress, and economic prosperity," DCM Gill said during the opening ceremony.
"A primary goal of the United States Agency for International Development is to help the Azerbaijani people come together to create solutions for themselves. And the residents of Baharabad can be proud that they have done just that. It is because of their efforts we are here today opening this new medical facility", William Gil said.
For many years, the community's medical needs were handled in just one room in the municipal building. As that building fell into disrepair, it became increasingly inadequate in meeting the community's healthcare needs. With technical support from EWMI, the community residents worked with their local and regional governments to construct a new medical facility. With three modern examination rooms and a designated waiting room, the new facility will improve the day-to-day access to healthcare for the 1,450 people in the Baharabad community.
In total, EWMI has implemented 87 community projects in 77 Azerbaijani communities benefiting nearly 120,000 people. Through USAID's Socio-Economic Development Activity (SEDA) program, EWMI promotes cooperation between citizens, civil society organizations, and government to advance socio-economic development and improve quality of life in rural areas.
---
Follow us on Twitter @AzerNewsAz