Ready, steady, go! Spin wheel of fortune at Blockchain & Bitcoin Conference Baku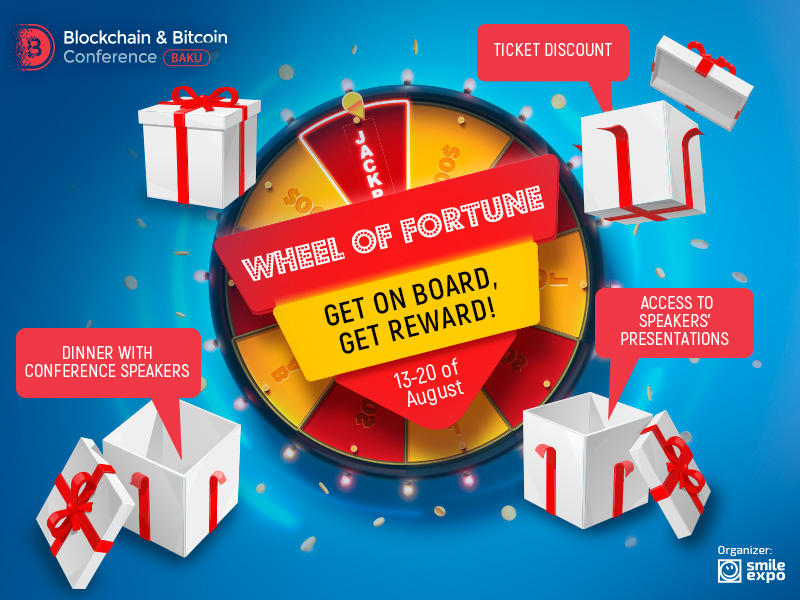 Try your luck! Soon a wheel of fortune will be available on the website of Blockchain & Bitcoin Conference Baku just for a week. Spin it and receive your prize – a dinner with speakers of the conference, a discount ticket, or perhaps a free access to presentations of speakers!
The wheel will stay on the website from August 13 to August 20. So hurry! Apart from ordinary presents, you can win the main prize – the discount of 200 AZN to the ticket!
Ticket price without discount: 400 AZN.
Ticket price with discount: 200 AZN.
Blockchain & Bitcoin Conference Baku is an event organized by Smile-Expo and dedicated to blockchain, cryptocurrencies, and ICO. It will take place on the shore of the Caspian Sea at Hilton Baku Hotel at the address: 1B Azadlig Avenue, Baku, 1000.
About the conference
Leading crypto experts from Azerbaijan, Russia, Ukraine, Kazakhstan, Georgia, the UK, and Switzerland will be waiting for guests of the event. The following speakers confirmed their participation:
Tural Kerimli (the High Tech Park of Azerbaijan);
Akram Hasanov (Akram Hasanov & Partners);
Sergey Lukashkin (VTB Bank);
Maryam Taghiyeva (Centre for Citizenship, Enterprise and Governance);
Denis Aleinikov (Aleinikov & Partners, author of the famous Decree №8 'On the development of the digital economy').
The detailed program and more information about the event are available on the official website of Blockchain & Bitcoin Conference Baku.