6 October 2015 16:00 (UTC+04:00)
2 190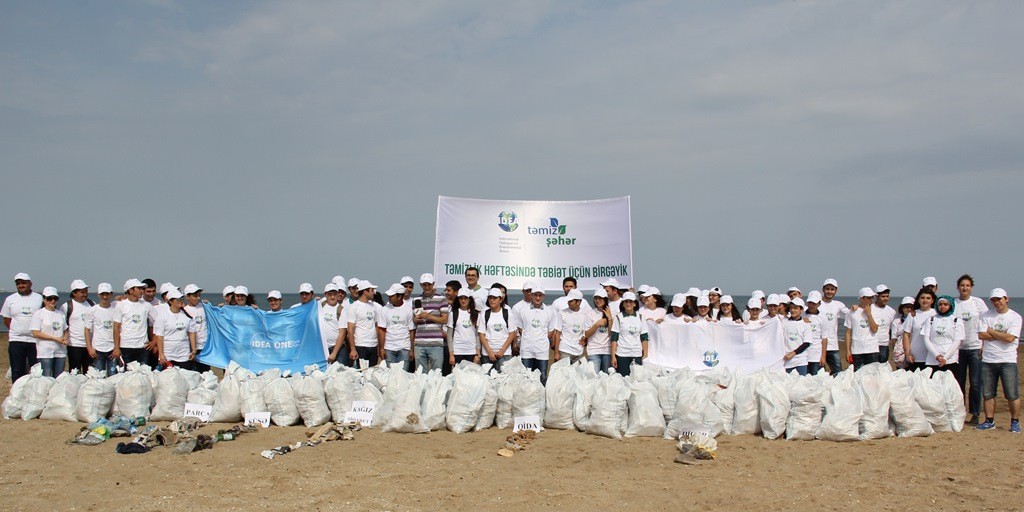 By Vusala Abbasova
The International Dialogue for Environmental Action PU conducted a cleanup campaign on Buzovna beach on October 3, 2015 as part of the global annual "Clean Up the World" campaign.
IDEA, together with Tamiz Shahar JSC and volunteers, held the cleanup with a view to end the pollution and contamination of coastal areas and to raise public awareness about the need to keep Azerbaijan's coasts clean.
The event has garnered wide public interest. As a result, people of various age groups have joined to the campaign.
The need for such measures arises as trash left behind by visitors to the Caspian coast is causing a sharp deterioration of the marine environment, especially in its wildlife.
It should be noted that the shore in Buzovna is the most polluted beach in Baku, according to research by the Ecology with Natural Resources Ministry. Therefore, it was decided to hold the cleanup campaign right at this location.
Cleanup participants were given all the required sanitary equipment. The collected waste was sorted and after it was determined exactly which were the most common types of waste found on the beach, it was delivered to the Balakhani Solid Waste Sorting Plant in special vehicles.
The campaign was held under the motto "Let us unite for nature in the Cleanup Weekend!"
The participants who were the most active in the cleanup process received souvenir gifts from IDEA.
The level of coastal pollution becomes very high after beach season in Azerbaijan and throughout the world.
Therefore, the IDEA Public Union organizes such social events with the participation of youth at Baku's beaches each year.
IDEA calls upon each individual to care about the environment, regardless of the season and to contribute to ongoing efforts against ecological problems.
The IDEA Public Union was launched by Heydar Aliyev Foundation Vice President Leyla Aliyeva on July 12, 2011 in Baku. The organization aims to promote public awareness on environmental issues and action, collaboration with the youth, promoting the education of environmental problems and finding proper solutions for them.
In four years, the organization has completed various projects, from tree-planting activity for young environmentalists and students, to an international photo contest for children called "Children's Eyes on Earth," featuring 1200 participants from 5 continents and 90 countries.
---
Follow us on Twitter @AzerNewsAz
Related News