Unique ancient findings discovered in Azerbaijan's regions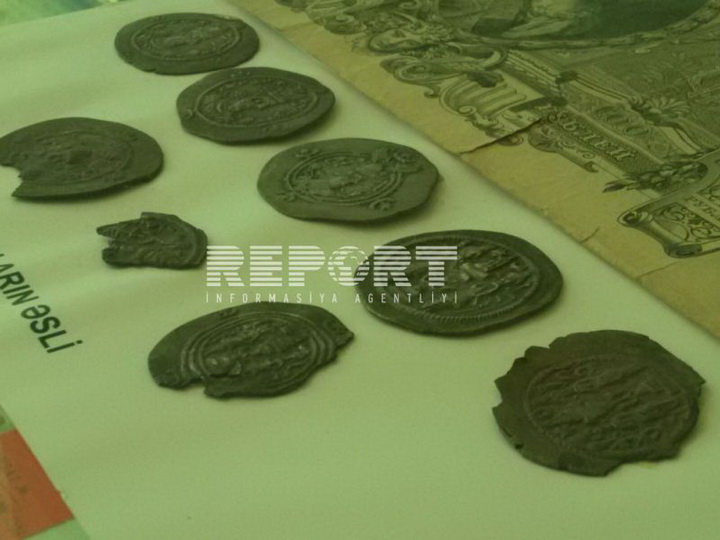 By Amina Nazarli
Ancient coins and jewelry were found in Azerbaijan's Fuzuli region by the staff of the Azerbaijan National Agency for Mine Action while demining the territory.
The findings were discovered in the region's Kharami slope, in an area mined during the Karabakh war.
The compelling findings were presented to the Local History Museum.
Museum director Elchin Asadov noted that the coins belonged to the Sasanian Empire established in the III century in Iran, which quickly led an attack on the ancient Azerbaijani kingdom of Atropatene and conquered it.
The surface of the silver coins was engraved with a moon and stars. The other side of the coins show the picture of Sasanian Empire's shahanshah Khosrau Anushiruwan.
Armenians invaded the majority of Fuzuli's territory in 1993. As a result of the invasion, some 51 villages at the center of the Fuzuli region were seized, leaving more than 55,000 inhabitants displaced.
The Fuzuli region is 1386 square kilometers with a population of approximately 105,000. Some 13 settlements and 20 villages are located in this region were freed from occupation. Twelve of the settlements were constructed after the war and internally displaced families had been given temporarily accommodation.
Other valuable findings were unearthed in the country's southern region of Jalilabad.
The resident of the region's Adnali village found a variety of jugs and human bones while digging a well.
Four of the jugs of various sizes seem to be household pitchers and one large jug is apparently intended for commercial purposes.
The discovery of these items in the people's graves may have been due to a belief in the afterlife.
In addition, a large number of small pearls and jewellery were also discovered around the bones.
According to local historians, specially colored ornaments with various patterns indicate the high development of handicrafts in the antique period.
Jewellery belonging to about III-IV thousand years BC was transferred to the Local History Museum for further research.
For more in-depth research, a special archaeological expedition is expected to arrive in the area in the coming days.
--
Amina Nazarli is AzerNews' staff journalist, follow her on Twitter: @amina_nazarli
Follow us on Twitter @AzerNewsAz