3 August 2015 13:28 (UTC+04:00)
1 041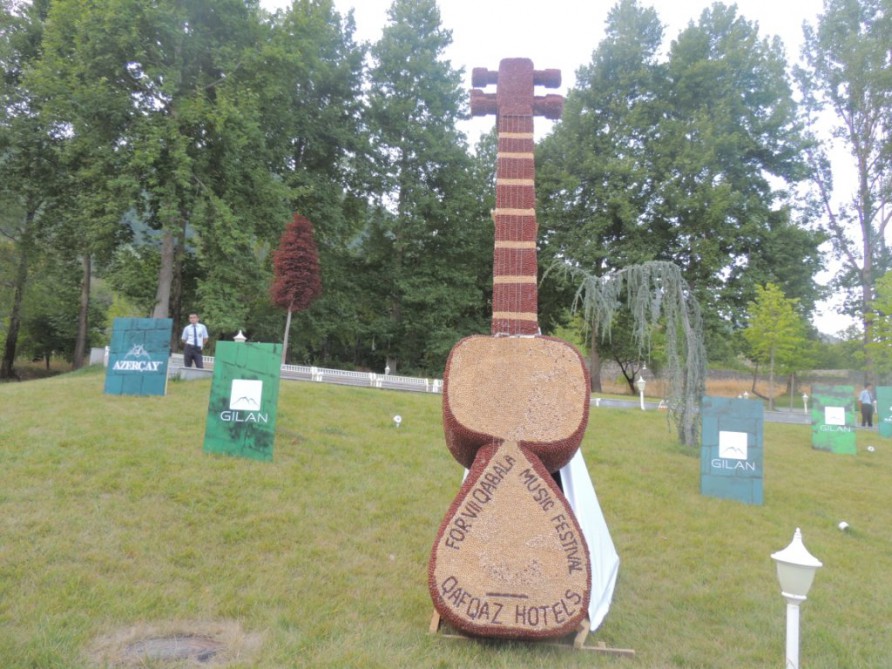 By Laman Sadigova
The International Music Festival in Gabala was not only an amazing musical event, but one showcasing Azerbaijani culture as well. It has riveted audiences with its exclusivity and originality.
A large-scale decorative model of a tar, a famed Azerbaijani musical instrument, for example, was displayed at the Heydar Aliyev Congress hall.
The tar was made out of 76,000 of hazelnuts and was 5 meters height, a width of 1.20 meters.
Eight master artists worked a grueling 10 days and nights to be able to unveil the figure at the opening ceremony.
One of its creators, Aslan Agaseferov, said that Gabala walnuts, hazelnuts, chestnuts are as popular as Azerbaijani sweets when served with tea. The nuts, therefore, have in the past been used symbolically.
The tar has attracted foreign guests to the festival, who have inquired about the model and stopped to take photos with it.
Masters also described a successful chocolate sculpture that they had created for the previous year's music festival. They mentioned that they already had a great idea for the next year's piece.
The tar is one of the most beautiful instruments in Azerbaijani culture and is played with a mediator. It is made from mulberry, walnut and pear trees, and the face of the instrument is made from cattle heart membrane. Its strings differ by thickness and composition.
---
Follow Laman Sadigova on Twitter: @s_laman93
Follow us on Twitter @AzerNewsAz
Related News