14 August 2015 13:00 (UTC+04:00)
4 926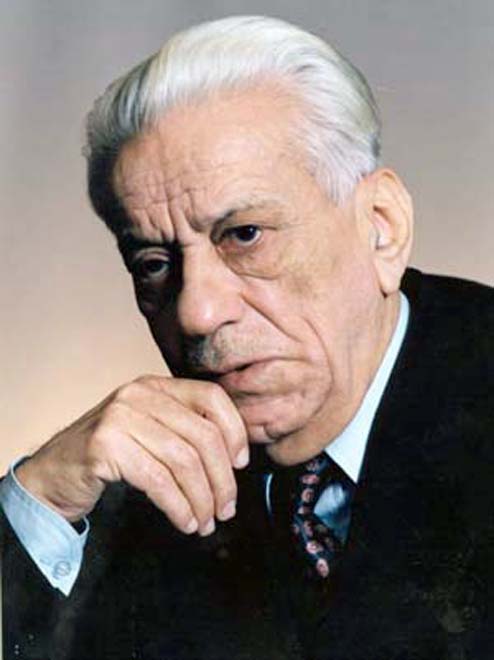 By Amina Nazarli
There are personalities -- artists and creators, embodying the conscience and spirit of their nation, its best culture traditions and its high contribution to human civilization.
One of such prominent personalities of our time was Bakhtiyar Vahabzade. His name has been inscribed on the Azerbaijan's literature treasury with golden letters.
More than sixty years, the outstanding word master worked tirelessly for promotion of the national and spiritual values of his
people and saving its rich customs and traditions formed over centuries.
He was mainly focused on the events that took place at different stages in the history of Azerbaijan, as well as vivid images of great personalities, living since ancient times.
His exceptional contribution to the strengthening of civic spirit and enhancing of creativity in Azerbaijani poetry made him a favorite poet among poetry lovers.
In his works, Bakhtiyar was as lyrical as he was philosophical. His poems are substantive and specific. He was a deep minded, constantly searching and restlessly thinking poet.
That's why his poems full of emotions and feelings can not be read in just one session as they penetrate into the thoughts of a human, forcing them to think wisely.
One of the important aspects of his creativity was a struggle for purity and enrichment of the native language. His works played an important role in enriching Azerbaijanis artistic thought.
Successfully combining literary and scientific works with teaching, Vahabzade, Professor of Baku State University contributed to the training of qualified personnel in Azerbaijan for many years.
The poet, who knew how to use poetic possibilities of his native language, managed to create amazing lyrics samples with philosophical ideas.
Literary community has always warmly welcomed his poetry, rich with reflections about the spiritual life, about world and time, nature and meaning of human life, with approval.
Numerous songs were composed based on the poet's poetry, differing due to their deep lyricism. His plays have been successfully staged in Azerbaijan and foreign theaters bringing the poet a widespread fame.
Dramatic works of Vahabzade, by which many events of our history are revive played a major role in education of the young generations.
Clean and lofty feelings were brightly used in Vahabzade's drama along with the description of contradictions, oppositions and moral turmoil of modern life.
During his interview, the wonderful poet said that he always had a pen and paper under his bed in his bedroom. Sometimes, waking up at the middle of the night due to ideas which did not allow him to sleep, Vahabzade made some notes. And in the morning, he supplemented them, adding them a final from.
"To whip yoghurt you should put a spoonful of yeast into milk. So, my yeast is the notes marked at night," he said.
Bakhtiyar is one of the few poets, whose life and creativity were linked with the fate of his compatriots and Motherland.
However, in 2009 heart of the national poet stopped beating forever. It was hard to accept for many that the path of a great poet has come to an end, a poet whose poems are filled with literary joy victories and sorrow failures that brought him popularity, fame and love in his homeland and far beyond its borders.
In connection with the 90th birthday anniversary of outstanding poet this year, President Ilham Aliyev signed an order to prepare and hold events devoted to his birthday. As he was one of the prominent figures who had a special place in the history of Azerbaijani literature.
--
Amina Nazarli is AzerNews' staff journalist, follow her on Twitter: @amina_nazarli

Follow us on Twitter @AzerNewsAz
Related News