30 September 2013 11:28 (UTC+04:00)
1 998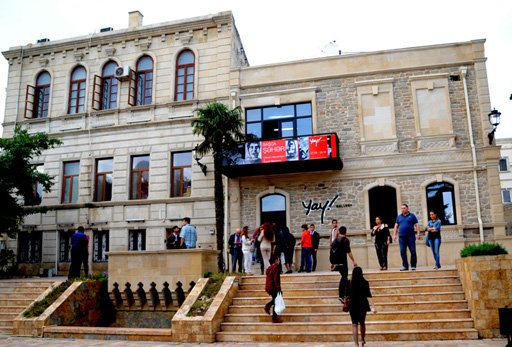 By Nigar Orujova
"The Other City" exhibition of Azerbaijani artists Huseyn Haqverdiyev and Rashad Alakbarov was opened at the Yay Gallery in Baku, organized by Yarat! Contemporary Art Space, an organization promoting contemporary art worldwide, on September 28.

The event was attended by Azerbaijani Culture and Tourism Minister Abulfaz Garayev, rector of Moscow State Lomonosov University's Baku branch, art director of UNS creative scene, Professor Nargiz Pashayeva, founder of YARAT Contemporary Art Space Aida Mahmudova, and prominent public figures, famous art and culture personalities.
"The Other City" exhibition is a joint attempt by Haqverdiyev and Alakbarov to comprehend and capture the spirit of the mega polis, eternally young and never sleeping, every day renewing and regenerating itself.
The exhibition will be running at the gallery until October 15.
The city seen through the eyes of two artists has many faces, dynamic and prickly, deceptive yet honest, bracing and a cauldron of stress, repelling and attracting at the same time. It makes us secluded and free, steels the nerves, removes stereotypes and fears, exchanging them for new ones.
Feelings of an artist living in a megapolis are heightened, he learns how to see beauty in concrete slabs, delighting in the emotive power of metal constructions. The modern city no longer hides itself away behind fortress walls, it reaches heavenwards with towering office blocks made of glass and metal. The city means nerves made of steel, orderliness of confined spaces, a concise algorithm of life.
Rashad Alakbarov creates installations that, like the city medium itself, consist of metallic elements, but assembled in such an improbable, fantastic way that the shadows they cast transform themselves into portraits of people. The results of the artist's work are spellbinding. In each of his painstakingly created compositions he endeavors to draw on a cold wall using light and shade.
The same severity, monochromaticism, precision of lines are present in the graphic art of Huseyn Haqverdiyev, evoking associations with the grey-brown complexion of the city.
Each of Haqverdiyev's graphical works generates a concept of the bustling street viewed from the city rooftops and garrets. If looking more attentively the lines of expressways will emerge into view with a whole swarm of crawling cars and it is possible to make out the twilight sky in the frequent hatching pattern of high-voltage power lines and satellite dishes.
This is a city of tenement blocks with their imprisoned citizens, each of which feels part of a huge human anthill. It vibrates and buzzes, filled with a restless existence and joyless arousal. Aimless movement along dusty alleyways and the ash from dozens of cigarettes - that is the city.
However, as the French philosopher Gilles Deleuze remarked, "Within every city there is always another city". Within the modern severe city of businessmen and successful people, of great hopes and disappointments, a mystical city exists.
This is understood when glancing at Alakbarov's installations penetrated with a deep psychological logic. The play of light and shade engenders a feeling of the illusory nature of the surrounding world.
The city ghost lives at night and dissolves at the light of dawn. The artist's works are fragile and can only exist in a dark room. Outlines of building and silhouettes of people can just be made out like distant events filter through the mists of memory.
Huseyn Haqverdiyev, national artist of Azerbaijan from 2003, graduated from the Azimzadeh Baku State Academy and the Mukhin St. Petersburg Academy.
He works with various materials and various genres including sculpture, painting, drawing and monumental art, gravitating to large forms. He is the author of a sculptured statue of the Virgin Mary in Baku Cathedral and a mosaic panel on an epic theme installed at the Sangachal Terminal.
Rashad Alakbarov graduated from the Azerbaijan State University with a degree in "Decorative Arts" in 2001.
The artist earned fame for his installations in which a virtuoso use of light and shade combine with a serious historical and cultural agenda.
In 2012 Alakbarov took part in the Festival of Islamic Art in Sharjah (OAE). His works have twice been displayed within the context of the International Venice Biennale - in 2007, in the official Azerbaijani pavilion, and in spring 2013, as part of the exhibition "Love me Love me Not" in the YARAT pavilion.
Related News