Azerbaijani National Art Museum exhibits on display at Islamic Arts Biennale [PHOTO]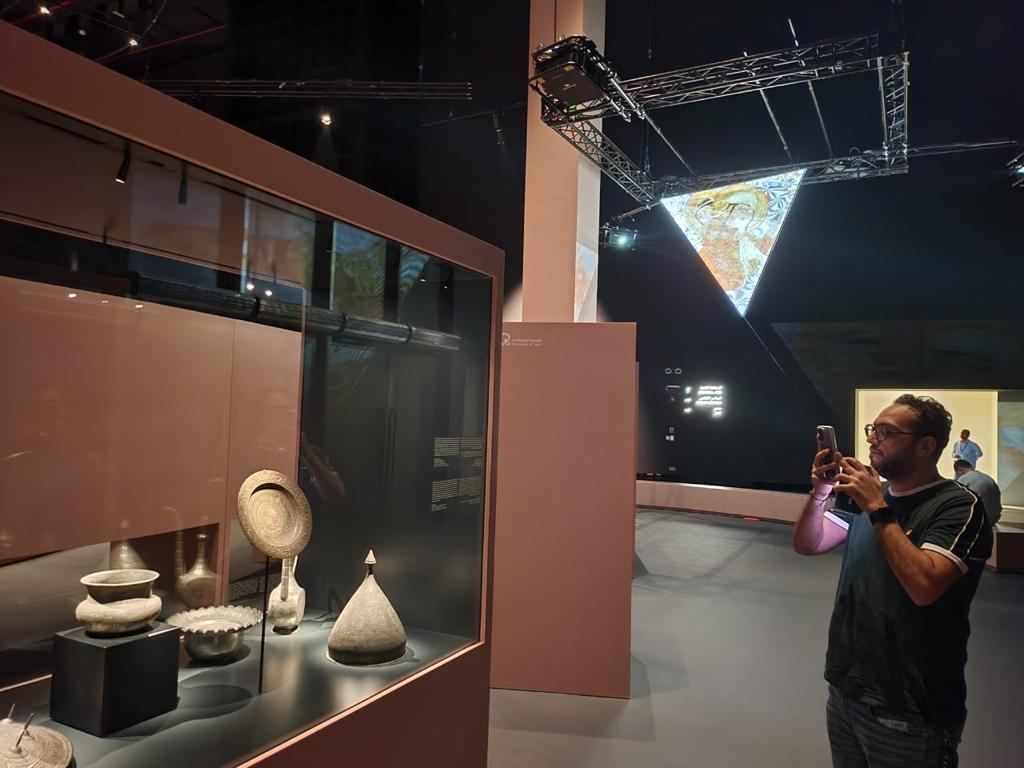 The Azerbaijani pavilion has been opened at the Islamic Arts Biennale, in Jiddah, Saudi Arabia, Azernews reports.
The Hajj Terminal at the King Abdulaziz International Airport has been chosen as the venue for the event, which aims to showcase the art and creativity of Islamic culture, from both the past and present. Additionally, it also highlights a mix of traditions and modernity.
The main theme of the biennale is called "Awwal Bayt", which means "the first house" in Arabic.
The Azerbaijani stand is set up at the Islamic Arts Biennale with the support of the Culture Ministry. Konul Rafiyeva acts as the curator of the national pavilion.
Speaking about the biennale, the museum director, Prof Chingiz Farzaliyev stressed that the pavilion features National Art Museum exhibits, including ceramics, rare miniatures collection related to the XVII-XVIII centuries Tabriz school, and colorful carpets, which aroused great interest among the guests.
There is also a multimedia installation "Varga and Gulsha: Irreversible", inspired by the illustrations of Abdulmomin Muhammad al-Khoyi for Ayuki's poem, which is the only manuscript dating back to the beginning of the 13th century.
In his speech, Chingiz Farzaliyev underlined that the National Art Museum is one of the country's leading museums, storing and studying Azerbaijan's rich legacy.
The museum has absorbed the national and world cultural heritage from ancient to modern times.
To date, its funds contain over 19,0000 artworks, many of which have been on display at international exhibitions and attract genuine interest from specialists, scientists, researchers, and art connoisseurs.
The international curators' team includes Johannesburg-based architect and co-founder of experimental design firm Counterspace Sumaiya Valli, Saudi Arabia's leading scientist and archaeologist Saad Alrashed, Barakat Trust Fellow at the Victoria and Albert Museum in London Abdel Barr, Director Emeritus of the National Museum of Asian Art under the Smithsonian Institution Julian Raby.
The Islamic Arts Biennale features pavilions that highlight the close connection between Muslims around the world, present the richness of Islamic art, and the connection between spiritual and artistic aesthetics.
According to the original plan, the Biennale was to be held in Riyadh, it was decided to move the venue to Jeddah, in order to show the importance of the city from where Muslims begin the pilgrimage to the main shrines.
Especially for the Biennale, exhibition spaces, a theater, workshops, a mosque, retail stores, and restaurants were built on a total area of 70,000 m².
Among the residents of the Biennale are such organizations as Dar al-Atar al-Islamiya (Kuwait), the Cairo Museum of Islamic Art (Egypt), Benaki Museum (Greece), National Museum of the Sultanate of Oman, the King Abdulaziz Center for World Culture (Saudi Arabia), National Heritage Institute (Tunisia), Qatar National Library, Ahmed Baba Institute of Higher Learning and Islamic Research (Timbuktu) and Al-Haramain Islamic Foundation (Mecca).
Notably, Islamic Arts Biennale runs from January 23 to April 23.
--
Follow us on Twitter @AzerNewsAz